Watch Chris Elliott's Hilarious and Touching Musical Tribute to David Letterman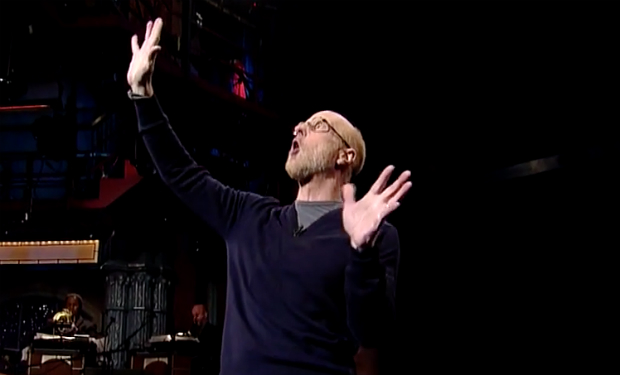 Posted by Nick Romano on
Chris Elliott made his final appearance on The Late Show with David Letterman last night, but not because there's anything physically wrong with him. As he put it bluntly, "I really doubt I'll have anything to plug before you're off the air." So before the celebrated late-night show host departs his post, Elliott wanted to send him off with an epic bang.
"What can I give you in return?" As it turns out, that would be a crowd-pleasing rendition of "To Dave with Love," a wonderfully appropriate variation on "To Sir with Love." And he performed it alongside a slideshow of some throwback photos of his time with Dave. Though, we didn't know Elliott and Letterman were close enough to do the Jewish chair dance together?
The comedian credits Letterman with breaking him into the business. Indeed, Elliott started out as a NBC page before working his way up to a regular writer and performer on Letterman's NBC Late Night show. Remember "The Fugitive Guy"?
Elliott's tribute to Dave is particularly touching, because pretty soon, a number of changes will come into effect to shake up the course of late-night television as we know it. While Letterman is retiring from The Late Show, effective this May, Stephen Colbert is coming in as a replacement. In addition, it was announced yesterday that Jon Stewart will be leaving The Daily Show at some unspecified future date, and Broadway funnyman James Corden is coming in to replace Craig Ferguson on the Late Late Show. It's a brave new late-night world out there, folks. So buckle your seatbelts.