Watch Bill Hader Lose It Over Dana Carvey's Beatles Meets Kanye Routine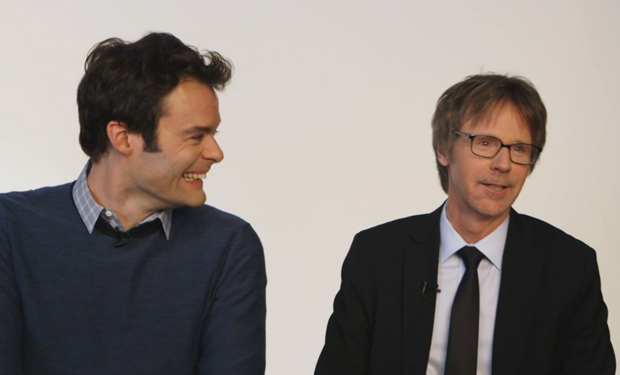 Posted by Nick Romano on
One of our favorite pastimes is watching comedian Bill Hader fall into a fit of hysterics. That's what made his Stefon bits on SNL so friggin' hilarious — the writers would try and made him break character by putting in the most ridiculous jokes in his cue cards before he had to film them. But apparently Hader's favorite thing now is Dana Carvey's new routine: John Lennon talking to Paul McCartney from Heaven about Kanye West.
The video comes from The Hollywood Reporter, which caught up with both comedians for the 40th anniversary of SNL, and both characterizations are pretty spot on and quite funny. (Fans old enough to remember Carvey's days on SNL and The Dana Carvey Show on ABC will remember he frequently spoofed Sir Paul, Ringo, and the rest.) But what's even better is watching how Hader's entire body crumbles under the weight of his laughter. By the looks of it, he seems to hit the maximum level of hysterics when Carvey says "autotuner" and "flatty-watty." It's just something he's working on, but he's already found comedic gold.
Perhaps it's so funny because Kanye has been making headlines for the stunt he pulled at the Grammys this past Sunday. Though he went all meta by poking fun at the time he drunkenly interrupted Taylor Swift's acceptance speech a few years back, he rushed up on stage when Beck accepted the award. (Jay Z and Beyonce had the best reaction to that.) Unfortunately, Kanye couldn't help but be Kanye and told E! later on that Beyonce should've won. Hopefully Kanye sees this video. We think if anyone can bring his ego down a couple of notches, it's The Master of Disguise.