10 Most Quotable Lines from the Vacation Movies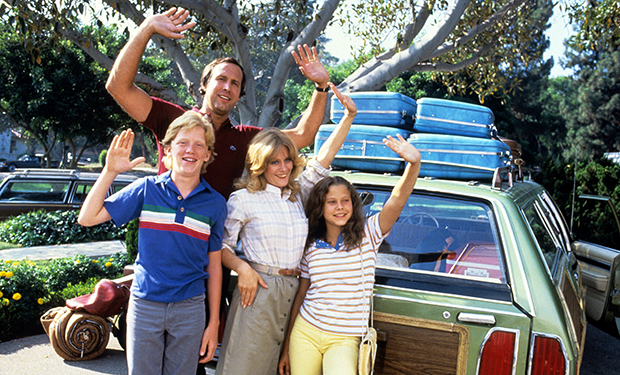 Posted by K Thor Jensen on
When you have the comedic firepower of the National Lampoon franchise behind your movie — and actors like Chevy Chase and Randy Quaid — you can bet it's going to be stuffed to the brim with unforgettable lines. Case in point: the Vacation series. Here's 10 of the best from the
10. "Oh, God – the dog wet on the picnic basket!"
Clark's flirtation with Christie Brinkley gets cut abruptly short when the sandwich he's eating is revealed to be urine-soaked, but the dog got his just desserts in the end.
---
9. "Hey look, kids, there's Big Ben, and there's Parliament."
European Vacation exposed the Griswolds to the nightmare that is a British-style roundabout, and the frustration was palpable.
---
8. "I got laid off when they closed that asbestos factory, and wouldn't you know it, the army cuts my disability pension because they said that the plate in my head wasn't big enough."
Randy Quaid's Cousin Eddie is one of the most dependable laugh-getters in the series, but when we first meet him in Vacation he drops some serious bummers.
---
7. "Why don't you give me half the money you were going to bet, we'll go out back, I'll kick you in the nuts and we'll call it a day?"
Wallace Shawn makes an unforgettable cameo as a dealer who milks Clark for everything he's worth and more in Vegas Vacation.
---
6. "Sorry, folks. We're closed for two weeks to clean and repair America's favorite family fun park."
When the Griswolds finally reach Wally World, they're confronted by an animatronic mascot who delivers bad news before being socked in the mush by Clark.
5. "She's got her mama's looks and her daddy's sense of balance."
When the Griswolds check in on Cousin Eddie and his crew in Vegas Vacation, Clark and Rusty get weird feelings from the exotic dancing of Cousin Vicki.
---
4. "I want to look him straight in the eye and I want to tell him what a cheap, lying, no-good, rotten, four-flushing, low-life, snake-licking, dirt-eating, inbred, overstuffed, ignorant, blood-sucking, dog-kissing, brainless, d***less, hopeless, heartless, fat-ass, bug-eyed, stiff-legged, spotty-lipped, worm-headed sack of monkey sh** he is! Hallelujah!"
The arrival of an envelope from Clark's boss in Christmas Vacation takes him on a roller coaster of joy and fury, making for a transcendent rant.
---
3. "Dad, Grandma's from Chicago."
When the Griswolds arrive in Germany, Clark gets a little emotional until Rusty sets him straight on his ancestry.
---
2. "Don't go puttin' none of that stuff on my sled, Clark. You know that metal plate in my head? I had to have it replaced, cause every time Catherine revved up the microwave I'd piss my pants and forget who I was for a half hour or so."
Cousin Eddie's head plate makes a return in Christmas Vacation's iconic sledding scene.
---
1. "This is no longer a vacation. It's a quest. It's a quest for fun. You're gonna have fun, and I'm gonna have fun… We're all gonna have so much f***ing fun we're gonna need plastic surgery to remove our goddamn smiles!"
Clark's meltdown as the family approaches Wally World in the first Vacation is one of the greatest cinematic freakouts of all time.