Here's All the Ways Quentin Tarantino's Movies Are Connected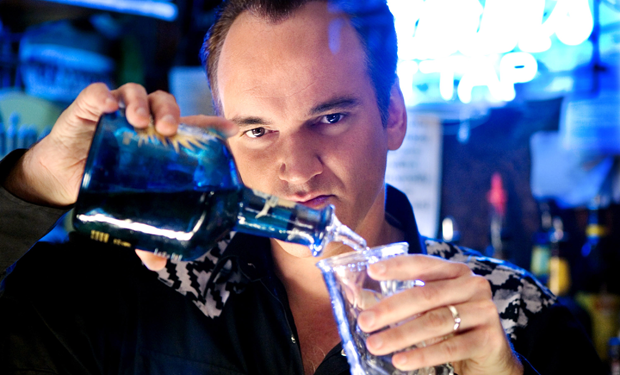 Posted by Cher Martinetti on
Shared universes are the big thing in Hollywood nowadays thanks to a little studio called Marvel. But Quentin Tarantino was already connecting all his movies long before the MCU dominated the industry and made all the money in world. He was just way more subtle about it. Here's your map to navigating through the weird, violent, and sometimes funny Tarantinoverse. Pay attention, because this bounces back and forth in true Tarantino fashion.
Reservoir Dogs and Natural Born Killers
Tarantino first broke into the scene with 1992's Reservoir Dogs, a film about a jewelry heist gone way wrong. The team of colorful criminals hired to pull of this job all go by code names, with audiences never really knowing most of their true identities. But we do learn the name of one of them: everyone's favorite ear-slicing, milkshake sipping psychopath Mr. Blonde aka Vic Vega, brother to Pulp Fiction's Vincent Vega, who happens to be quite the dancer himself.
When we first really meet Vic, we find out that he's fresh out of jail and has no love for his parole officer Seymour Scagnetti.
Turns out Scagnetti's got a sadistic brother too, Det. Jack Scagnetti. The other Scagnetti brother became famous for tracking down and catching a pair of star-crossed, serial killing lovers named Micky and Mallory Knox in the Tarantino-scripted Natural Born Killers.
---
True Romance has a connection to Inglorious Basterds
We also learn in Reservoir Dogs that Mr. White was once mentoring a call girl named Alabama who, as it turns out, is now all loved up with an Elvis super-fan named Clarence in True Romance.
But before those two ride off into the sunset, they have to kill Alabama's pimp, which leads to them accidentally grabbing a bag of cocaine that they decide to sell to some big shot producer named Lee Donowitz.
But way before Lee was making hit movies and involved in Mexican standoffs, his dad. Sgt. Donny Donowitz, was a super bad-ass that fought in World War II as part of the Inglorious Basterds. But back then people knew him by his cuddly codename, "The Bear Jew."
---
Pulp Fiction hinted to Kill Bill 
Hold on! Now we need to jump back and semi-confuse you because, well, it's a Tarantino list so screw chronological order. In Pulp Fiction, Vincent Vega is tasked with taking Marsellus Wallace's wife out. Over dinner, she tells Vincent about her short lived acting career which included a pilot for a show called Fox Force Five. Which…
Mind = blown, right? I know.
The Bride's connection to Django
Speaking of Kill Bill, one of the many times someone tried to kill The Bride, aka Beatrix Kiddo, included a scene where Budd buries her alive in the lonely grave of Paula Schultz.
Paula's husband is a former dentist turned bounty hunter by the name of Dr. King Schultz (played by Christoph Waltz), who ends up freeing Django and helping him find his wife in Django Unchained.
---
That is a tasty burger…
Got all that? Good. Now pay attention again, because we need to jump all over the place. Since I can practically hear you calling out the Tarantino movies I haven't listed yet, let's tie up some loose ends with these Easter eggs, shall we?
Everyone remembers the scene in Pulp Fiction when Jules helps himself to Brett's tasty burger breakfast, right? Here's a refresher:
Well, the fictional chain of Big Kahuna Burger is mentioned in Pulp Fiction, From Dusk til Dawn, Death Proof, Reservoir Dogs and Four Rooms, proving that all these films exist in the same world.
From Dusk Til Dawn also connects to the Tarantino-produced movie Curdled when the Gecko brothers show up on this TV show. (Pushing the connection even further, Curdled starred Angela Jones who played morbid cab driver Esmeralda Villalobos in Pulp Fiction.)
Also, Earl and Ed McGraw play two Texas Rangers in From Dusk til Dawn, Kill Bill, and Grindhouse.
In addition to Son Number One, Edgar has a daughter named Dakota, who we meet in Planet Terror.
The only movie that doesn't fit into the Tarantino shared universe is Jackie Brown which was an adaptation of an Elmore Leonard novel. I guess now we get to wait and see how The Hateful Eight fits into this insane puzzle.
video player loading
.
.
.