Take a Timeout and Watch Jimmy Fallon Reunite the Saved by the Bell Cast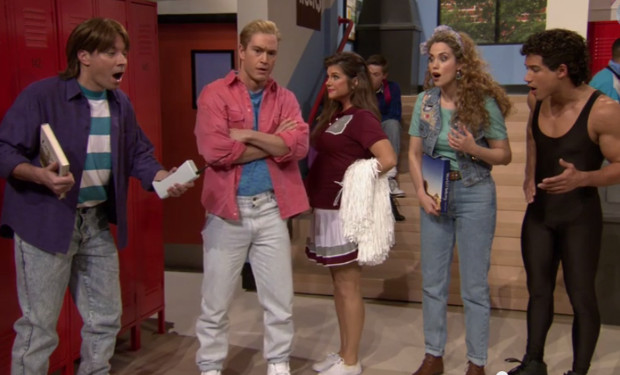 Posted by Nick Nadel on
As the famous theme song goes, "it's alright, because the Saved by the Bell cast reunited on The Tonight Show." Well, most of them anyway. Nobody likes Dustin Diamond and Lark Voorhies has pretty much vanished from Hollywood, but the rest of the cast of the classic Saturday morning sitcom is present and accounted for.
Jimmy used his week of shows in Los Angeles to stage a mini Bell reunion episode that answers all your burning questions: Are Zack and Kelly still together? Does Zack still have his giant cellphone? Is that Mr. Belding? Hoo boy.
All the jokes you expect are there — Zack calling for a "timeout," Slater's leotard, Jessie exclaiming "I'm so excited!" There's also a 90210 reference for the five of you out there who remember that Tiffani Amber Thiessen was on that show for a few seasons. Sadly there's no mention of bad girl Tori or Stacey, Zack's love interest from the episodes where the gang worked at the Malibu Sands Beach Club who was played by Leah Remini. They exist, Jimmy!
Enjoy, and try not to think about the fact that the show has been off the air since 1993 and that time continues to march ever on, getting you closer and closer to the grave. Uh, remember California Dreams?? When is Fallon going to reunite the Dreams???