Ranking the Foods in the Tarantino Universe From Healthiest to Unhealthiest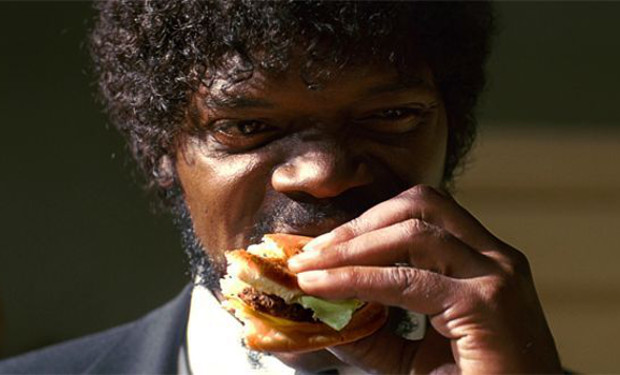 Posted by Brian Cullen on
Besides Samuel L. Jackson, homages to fringe genres of cinema's past, bloodbaths, and a pretty uncomfortable relationship with the n-word, there's one constant in Quentin Tarantino's movies: food. (Well, that and lingering shots of women's feet. Hey, we just calls 'em like we sees 'em.) Logically, then, the only reasonable thing to do is rank the many tasty foodstuffs calorie for calorie, because to hell with my free time. Here are some ground rules:
1. We're ranking this based on calories. No carbs, fat, sodium, protein, etc.
2. These rankings are based on the calorie content of an entire meal. Doesn't matter if Jules Winnfield just had one bite of a Big Kahuna burger — we're taking the entire thing into account.
3. Standalone drinks don't count, unless they're part of a meal.
4. Almost every food was calculated using the same calorie-counting website for the sake of consistency.
And with that, here we go:
20. White Rice, Eaten Like a Dog, Kill Bill, Vol. 2
Poor Beatrix Kiddo. Pai Mei makes her punch the crap out of a wooden board day after day. (Spoiler: the board wins.) During a consolation meal, Kiddo's hands are so bloodied and bruised, she can't hold a pair of chopsticks. So she tries to eat them with her hands. Pai Mei slaps her bowl away, insisting that if she eats like a dog, she gets nothing. On the plus side, there are several studies about the health benefits of fasting.
Total Calories: 0
---
19. Hard Candy, Django Unchained
In a "blink-and-you'll-miss-it" moment of food consumption, Calvin Candie pops a hard candy after the fight to the death in his upstairs quarters. What else would one expect to find at Candyland?
Total Calories: 24
---
18. White Rice, Eaten Like a Human, Kill Bill, Vol. 2
Hey, there you go, Kiddo! After being berated like a child, The Bride gives it another go, and is rewarded for a full day of board pounding with…a tiny bowl of unflavored white rice. D'aw.
Total Calories: 121
---
 17. A Small Ham and Cheese Sandwich, Inglourious Basterds
At one point, Aldo Raine is seen eating a very tiny sandwich. One assumes there must be some kind of German farmhouse mustard on there. There is nothing else of note to say about this sandwich.
Total Calories: 180
---
16. Knickerbocker Beer, Django Unchained
The beer-pouring scene from Django deserves a special exception to the "no drinks" rule for two reasons: 1) beer tended to be thicker back then, and 2) heavens, didn't you want a beer after seeing Dr. Schultz' meticulous pouring process?
Total Calories: 212-219, depending
---
15. Metrix Weight Gain Shake, Jackie Brown
Why Melanie feels the need to be taking weight gain supplements is beyond me. Why not try Big Kahuna burgers?
Total Calories: 270
---
14. White Cake, Django Unchained
After celebrating the purchase — and freeing — of Hildi, Calvin Candie offers his latest clients a slice of white cake, heretofore known as "Symbolism: The Dessert." It does not end well.
Total Calories: 350. Maybe less, since it's a small-ish slice.
---
13. Large Corn Muffin, Pulp Fiction
Towards the end of the film, Jules Winnfield has come to a Jesus revelation over a corn muffin. I can tell you it's a corn muffin with about 85% certainty because I spent an hour watching the scene in slow motion. So let's just agree that this is a large, non-buttered corn muffin, ok? Either way, it's one life-changing muffin. As Jules might call it, a real "Muffin of Clarity."
Total calories: 424 
---
12. Sushi, Kill Bill, Vol. 1
You may be calling shenanigans that we're saying the sushi that Hattori Hanzo serves Beatrix Kiddo is less healthy than a corn muffin. But you have to take into account the rice, the portion size and the mercury content. Also the general cleanliness of Hanzo's shop.
Total Calories: 496
---
11. Bill's Sandwiches, Kill Bill, Vol. 2
Say what you will about Bill, dude makes a hell of a sandwich. After reuniting Beatrix with her daughter, Bill makes a little late night snack for B.B. Now, we can tell the bread calories for certain because we can see that it's Bimbo white bread (120 cal./slice). But it's hard to see exactly what meat is being used. Looks like maybe bologna and turkey with a slice of American cheese, topped with mustard AND mayo (ooo la la! So fancy.) This might have been a smidge higher on the list, but he did cut the crusts off. Bill's a good dad, after all.
Total Calories: 500
---
10. Chicken Teriyaki, Jackie Brown
During the dry run of the bag switch, Jackie Brown has food from a teriyaki place. It's hard to see exactly what she's eating, but it's something dark, and she has a bowl and chopsticks, so you'd think soba noodles. BUT — I can't imagine that the Tarantino equivalent of Panda Express is rocking soba. The next logical assumption has got to be teriyaki, like it says on the side of her cup. Wash that down with a gigantic soda (assuming non-diet) and you've got quite a high-caloric meal.
Total Calories: 540
---
9. Breakfast Platter, Pulp Fiction
Pumpkin and Honey Bunny wax poetic about committing crimes while Pumpkin feasts on sausages, hash browns, eggs and maybe a small waffle. Top it off with a cup of coffee and you're looking at 545 calories, which is a good healthy breakfast for executing every last person in the restaurant (supposing they move/aren't cool).
Total Calories: 545
8. Pancakes and Bacon, Pulp Fiction
While Pumpkin and Honey Bunny are discussing executions and what have you, Vincent Vega sits just a few booths over, chomping down on some huge pancakes with maple syrup and a few slices of bacon. We know it's bacon because he offers some over to Jules before the two explore the morality of pork consumption. Then he leaves to go number #2, which is always the sign for trouble in the Pulp Fiction-verse.
Total Calories: 635
---
7. Apple Strudel, Inglourious Basterds
You've gotta hand it to Christoph Waltz — he managed to make this apple strudel the most terrifying dessert since that cupcake that spits tobacco in Chris Elliot's face in Cabin Boy. Combine the homemade strudel with hand-prepared whipped cream and a tall glass of whole milk, and the calories start adding up.
Total Calories: 644
---
6. Whatever They're Eating at the Diner, Reservoir Dogs
Tarantino never actually shows anyone's plate in Reservoir Dogs, but we can figure it out based on their bill. See, Joe mentions that everyone at the table needs to leave a $1 tip. That's $8 for the tip, which means a $53 tab (assuming 15% tip). Minus drinks (and I'm making some assumptions) and you've got $42.75 in food costs, or, $5.34 per diner. After usual restaurant markup, you're looking at a cost of $1.87 per plate. What the hell could be so cheap? Probably basic, non-meat food: eggs, white toast with butter, and home fries. This meal gets extra calories from whoever was drinking beer with breakfast (one assumes the soon-to-be-killed Mr. Brown and Mr. Blue. Who drinks before a heist?)
Total Calories: 725
---
5. Big Kahuna Burger, Pulp Fiction
The meal from Big Kahuna Burger is not what it seems. Sure, you've got a standard looking burger (cheese, ketchup, lettuce, probably a quarter pound of beef), fries and a large Sprite. BUT. Remember that they define Big Kahuna Burger as "that new Hawaiian burger joint." Now, I didn't see any pineapples on that burger, so what the hell makes this thing Hawaiian? Bingo! Hawaiian rolls. There's sugar in that roll, which means more calories. (No wonder it's such a tasty burger.) Granted Jules only takes a bite. But Brett, Flock of Seagulls hair and the rest were having Big Kahunas first thing in the morning. Breakfast of champions? More like breakfast of heart disease sufferers.
Total Calories: 1,136 
---
4. Let's See, Steak, Steak, Steak…I'll Have the Douglas Sirk Steak, Bloody as Hell, and, Oh Yeah, Look at This, a Vanilla Coke, Pulp Fiction
I can't tell you how disappointed I was to learn that Jack Rabbit Slim's isn't a real restaurant. Anyway. Vincent Vega has a veritable feast on his platonic date with Mia Wallace. No wonder he spends so much time on the can.
Total Calories: 1,440
---
3. Sheronda's Mexican Spread, Jackie Brown
Poor, nervous Sheronda shows up with one of the biggest plates of food I've ever seen in my life. Best I can tell, we're looking at pinto beans, rice, and enchilada, maybe a taco or two, and a big soda. Come on, Sheronda! You're making a pickup! You can't eat food that upsets your stomach that much! You're going to ruin the whole thing.
Total Calories: 1,440
---
2. Stuntman Mike's Killer Nachos, Deathproof
Jesus Christ, look at those things. Watching Kurt Russell go to town on a plate of epic 'chos is equal parts disgusting and appealing. By the by, you can find the actual meal — "Killer Nachos" — at the Texas Chili Parlor in Austin, TX, which is where the scene was filmed. But please, for the sake of the waitstaff, be neater than Stuntman Mike.
Total Calories: 1,815
---
1. The Durward Kirby Burger, bloody, and…a $5 Shake, Martin and Lewis, Pulp Fiction
Yep. The king of Tarantino gustatory bombs can be found at Jack Rabbit Slim's. Now, that deluxe burger and that huge mound of fries are obviously packed with calories. But what tips the proverbial scales is the $5 shake. That's 30 ounces of vanilla ice cream and milk, whipped together and served with a cherry on top. How does Mia Wallace keep it off? All that cocaine she snorts must be a hell of a calorie burner.
Total Calories: 2,486
---
video player loading
.
.
.