Thrills, Spills and Swills: 6 Crazy Things We're Hoping To See at the Spirit Awards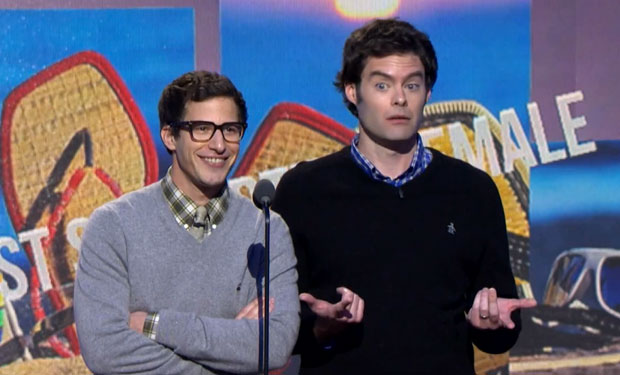 Posted by Nick Romano on
This Saturday, IFC will air the 30th Film Independent Spirit Awards LIVE at 5p ET/2p PT. That means we won't have to wait until later to watch a delayed showing of all the happenings. But with that comes all the glorious shenanigans that can happen during a live show.
As Liz Lemon taught us during the live episodes of 30 Rock, we all need live television. Aside from the nerve it takes to get up in front of the hundreds of people in attendance, in addition to all the people watching at home, there's that always present thought in the back of your mind that reminds you that anything can happen. No matter how much you prepare for what's coming, there's always something could go wrong or oh so right.
Here are some reminders of what can happen during award shows.
6. The Butchering of Names
John Travolta managed to stay out of the spotlight, but with just two words he became the laughing stock of the Internet. We're all still asking ourselves how someone could mistake Idina Menzel for Adele Dazeem, but it happened and now that's his legacy.
---
5. Streaking
Streaking is so five decades ago, but apparently it can still happen nowadays. Remember that time a streaker interrupted Hayden Panettiere on stage at the MTV Movie Awards? In his defense, he certainly made things more interesting.
---
4. Drunken Shenanigans
Emma Thompson taught us a valuable lesson during the 2014 Golden Globes: it's super easy to get drunk at these events. Sometimes it's nice to calm the nerves with some liquid courage, but too much can make you wanna go up on stage in front of your peers with your high heels in one hand and a cocktail in the other.
---
3. Unexpected Interruptions
No matter how much the producers and security guards prepare for the unexpected, if someone like Kanye West wants to interrupt Taylor Swift's acceptance speech, they're gonna. Thankfully Queen B was there to remedy this situation, but Beyonce is not always going to be there to save the day.
---
2. Random Makeout Sessions
First things first, Julia Louis-Dreyfus is one of the best people to have at your awards show. And second, she taught us all to expect the unimaginable. Were we expecting her and Bryan Cranston to rekindle their Seinfeld love affair before she walked up to accept an Emmy? No, but it was fantastic to watch.
---
1. Wipeouts
Heels are difficult to walk in. That's a fact. Then add in some of the most extravagant floor-length dresses, and you've got a disaster on your hands. It doesn't matter if you're a self-professed klutz like Jennifer Lawrence or Meryl Streep, the "trip and fall" doesn't discriminate.