10 Examples of People Yelling "Noooooooo!" in Movies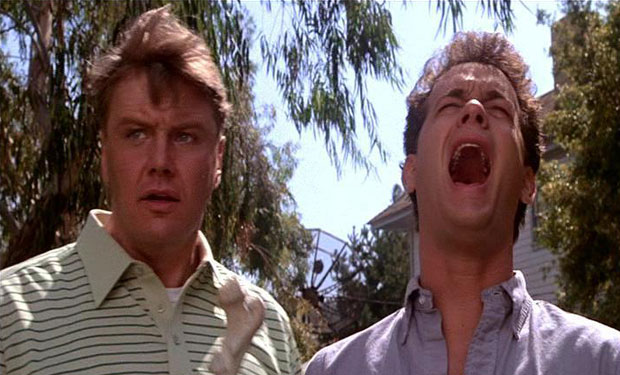 Posted by Brian Steele on
One thing's for sure — no matter the genre, no matter the medium, no piece of entertainment is immune to the glories of a character screaming "NOOOOOOOOO!" into the air like they just don't care. Daughter died? Facing down a tidal wave? Watching the Sun explode? Check out these 10 examples of people letting their "NOOOOOOOs" fly.
10. Evil Dead 2
This 1987 Sam Raimi classic helped put screaming "Noooooo!" on the map. This is how you end a movie, people.
---
9. A Nightmare on Elm Street 3: Dream Warrior 
The filmmakers behind Freddy's third installment knew that when all else fails, having someone scream "Nooooooooo!" will at least fill up space in your movie. Here it's mute Joey using his "dream voice" to kill Mr. Krueger once and for all. Or does he?
---
8. Van Helsing
This 2004 bomb finds Hugh Jackman getting early practice for his "no!" screaming ways, only this time in wolf form.
---
7. Muppets from Space
In one of the many Muppet movies made after the death of creator Jim Henson, Gonzo seems to be speaking for all us when he lets out this emotional howl.
---
6. The 'Burbs
Before Tom Hanks became the biggest movie star in the world, he was just a guy who had the comedy chops to make screaming to the heavens hilarious.
5. Pet Cemetery 
The film adaptation of Stephen King's novel wasn't a critical hit, but it did wisely use a character screaming "no!" not once, not twice, but three times. Go big or go home, people.
---
4. X-Men: The Last Stand and X-Men Origins: Wolverine 
Sometimes you film a character screaming "no!" in one movie, and love it so much you create a spinoff just so he can do it two more times.
---
3. Jungle Fever
This 1992 Spike Lee Joint brought the scream to art house cinema. Sometimes you just don't feel like being propositioned by a prostitute. Or if you're Wesley Snipes, paying your taxes. NSFW:

---
2. Death Wish V: The Face of Death
By the time this fifth installment of the Death Wish franchise came out, star Charles Bronson was 72 years old, and had run out of ways to kill people. This is a prime example of that.
---
1. Star Wars Episode V: The Empire Strikes Back, Star Wars Episode III: Revenge of the Sith and Star Wars Episode VI: Return of the Jedi 
Sometimes screaming "no" runs in the family. As demonstrated in these two clips, one perhaps the most classic "no" in movie history. The other, not so much. And finally, because Lucas can't stop tinkering with/screwing up the original franchise, Darth Vader now unleashes his signature "no!" on the recent Return of the Jedi Blu-ray.  Now if you'll excuse us, we're going to look skyward and express our distaste vocally.