Wanna Get Nuts? Michael Keaton's 10 Greatest Movie Freakouts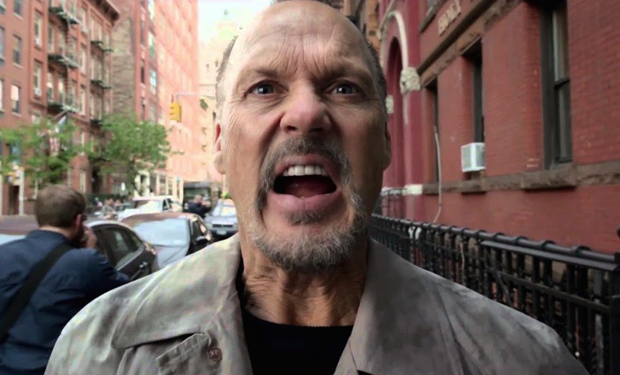 Posted by Nick Romano on
No one can lose his mind on command quite like Michael Keaton. After all, the man has had a lot of practice. But his latest freakout will perhaps go down as his most famous of all time, as it was the one that helped him earn a Golden Globe win and an Oscar nomination. Before Hollywood's big night, though, the Birdman star could earn another victory at the Spirit Awards. Before we find out if his latest manic movie moment earns him another victory at the ceremony, which airs LIVE on Sat, Feb 21 at 5p ET, we celebrate our 10 favorite Michael Keaton freakouts from the big screen.
10. "Fight Club," Birdman
Michael Keaton walked away with a statuette at the Golden Globes and he's up for Best Actor at the Oscars and the Spirit Awards, and he has this particular onscreen freakout to thank. There's always at least one major moment that blows everyone away, and the combination of his mental breakdown and tumble with Edward Norton in his underwear easily earned that title.
---
9. "Let's Get Nuts," Batman
There have been many Batmans, but none could mentally go from zero to 60 at the drop of a hat like Keaton. And we mean from calm, cool and collected to "I'm about to lodge this fire poker through your skull if you don't back off." Sometimes when you're trying to distract Jack Nicholson's Joker, you have to lose your cool.
---
8. "Til Death Do Us Part," Beetlejuice
Keaton's entire performance as the iconic Beetlejuice is basically one freakout stretched out over the course of an hour-and-a-half, so it's difficult to whittle this film down to just one epic moment. But that got us thinking: what makes normal men — you know, the none ghost-like — become stark-raving mad? Marriage! Which would then make Beetlejuice's wedding scene with Winona Ryder one massive ball of anxiety.
---
7. "You Crossed The Line," Pacific Heights
Keaton has never been more freaky than he was as the creepy apartment subletter in Pacific Heights. He became Glenn Close in Fatal Attraction meets Christian Bale in American Psycho, and his pop-out from behind the doorway made us completely lose control of our bowels. We know, we know — #TMI.
---
6. "I Love Pizza," Multiplicity
What would you do if you discovered not one, not two, but three clones of yourself walking around your home and meddling with your life? You'd flip the f— out, right? So who can blame Keaton's Doug for doing just that? However, our favorite part has to be when he meets Doug #4. Not only is the original Doug trying to keep it together, but the latest clone is going cuckoo for pizza.
5. "Investments My Ass," Penthouse North
Rule #1 for when you come across a villainous Keaton: never tell him about any secret treasure that may or may not reside in your apartment. It's like that old book we used to read as kids: If you give a Keaton a diamond, he's gonna want more…and he'll dangle you from the rooftop to get them.
---
4. "Go F— Yourself," The Paper
There are those who pride themselves on their patience, but Keaton's onscreen characters are usually not among them, especially not Henry Hackett. When the editor of a New York City-based newspaper is berated in a continuous stream of insults on the phone, he's going to fight back, and the explosion will be cataclysmic.
---
3. "I'll Straighten Out My Chair," The Dream Team
As Christopher Lloyd learned the hard way, you don't invade the personal space of a man and demand he fix his chair when said man has a raging anger management problem. Luckily, no one was hurt during the massive freakout that followed.(Well, save for the chair.) The only thing that's more epic in this moment from The Dream Team is perhaps Keaton's mullet
---
2. "I Am God," Clean and Sober
Getting sober is no easy task for a recovering drug addict. But rehab, as Keaton depicts in the underrated Clean and Sober, is the perfect breeding ground for some rage fits. Hey, whatever makes the time go by faster and the pain more bearable, right?
---
1. "Is He Out?," Desperate Measures
There was a reason McCabe, Keaton's character in Desperate Measures, was locked away in confinement for so long: anything that could be turned into a blowtorch would be turned into a blowtorch. The only thing scarier is the actor's rippling pectoral region. Some guys just shouldn't have bulging muscles, and on Keaton, well, they make him look like a serial killer. Oh wait! That's what he was going for.