Bradley Cooper's Navy Seal Gets a Rom-Com Makeover With American Cupid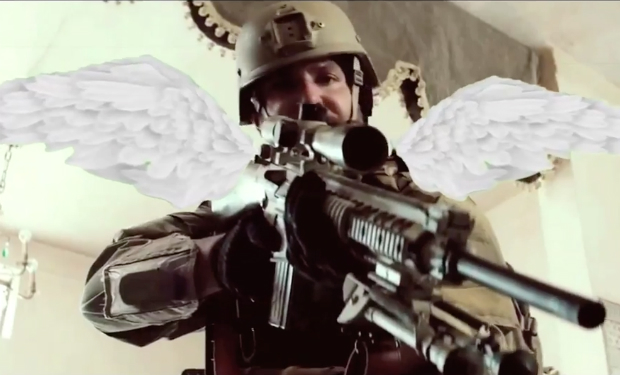 Posted by Nick Romano on
Love is a strange and powerful thing. We don't really know why we're drawn to each other, but we were content to chalk it up to the magic of this mystical force…until now. Turns out, Bradley Cooper's Chris Kyle, known as the deadliest sniper in American history, is the one infecting us all with the love bug.
At least, that's what this hilarious mash-up of American Sniper and classic rom-coms would have us believe.
Boo Ya Pictures, the same folks who made the hysterical "Fifty Shades of Steve Buscemi" spoof, have done it again. Only this time they've reimagined one of the most controversial films of recent memory as an origin story of Cupid. Forget what you think you know about the winged diaper-clad being of love and hugs. Apparently, he actually likes to blast his subjects with bullets tinged with the most potent drug of all: love.
As you can see in American Cupid, he's the one to thank for Meg Ryan and Tom Hanks falling in love in You've Got Mail, Meg Ryan (again) and Billy Crystal in When Harry Met Sally, Reese Witherspoon and her ex-husband Ryan Phillipe in Cruel Intentions, and even Ashton Kutcher and Sean William Scott in Dude, Where's My Car?
So, Michael Moore, maybe the reason you haven't found love yet is because you've been spending your time bashing American Sniper.