Celebrate Billy Madison's 20th Anniversary with These 9 Interesting Facts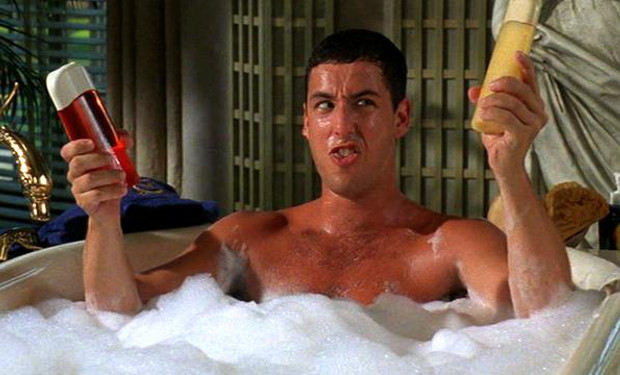 Posted by Cher Martinetti on
Adam Sandler fans and aficionados of shampoo-related humor rejoice — Billy Madison turns 20 today! Since the movie is all about being smart and stuff, we figured we'd offer up some cool trivia just in case you find yourself faced off against Bradley Whitford in a Jeopardy!-style contest to inherit your father's multi-billion dollar hotel company and need to know any of this. What? It could happen.
9. The O'Doyle family are referenced in several Sandler movies.
The Irish clan started as the antagonists in Billy Madison, and have been a running joke in Sandler's comedies ever since.

(Source)
---
8. Allen Covert, Sandler's friend since NYU, has only made two movies that weren't produced by or starring Sandler.
Covert was supposed to play one of Billy's best friends, but ended up as the uncredited Burger Joint clerk instead.

(Source)
---
7. Sandler's co-writer Tim Herlihy was the inspiration for the SNL character "The Herlihy Boy," aka the best house sitter ever.
Just let the kid water your damn plants!

(Source)
---
6. Actor Josh Mostel, who played the elementary school Principal Max Anderson aka The Revolting Blob, is actually a trained opera singer.
Son of Broadway legend Zero Mostel, Josh played King Herod in the film adaptation of Jesus Christ Superstar. Contrary to popular belief, he is also not Seinfeld's Wayne Knight.

(Source)
5. Larry Hankin ran for Vice President in 2012. Seriously.
Yeah, we're just gonna leave this video right here.

---
4. Billy's dad was the father in A Christmas Story. Which is basically the best Christmas movie ever made.
OK, that may be more of an opinion than a fact, but whatever.

---
3. Director Tamra Davis revealed in an interview that Sandler was really pegging those kids with the dodgeball.
And knowing this kind of makes that scene even funnier. Er… we mean meaner.

---
2. Billy's science teacher is the guy behind Triumph The Insult Comic Dog.
Not only that, comedian/writer Robert Smigel created SNL's Ambiguously Gay Duo. Bonus fact: Stephen Colbert and Steve Carell voiced Ace and Gary.

---
1. Norm MacDonald was actually wasted for the scene where he's wasted.
Norm shared just how method he was for this scene when Sandler was a guest on his podcast last year.