Say What? 8 Things You Didn't Notice in Quentin Tarantino's Movies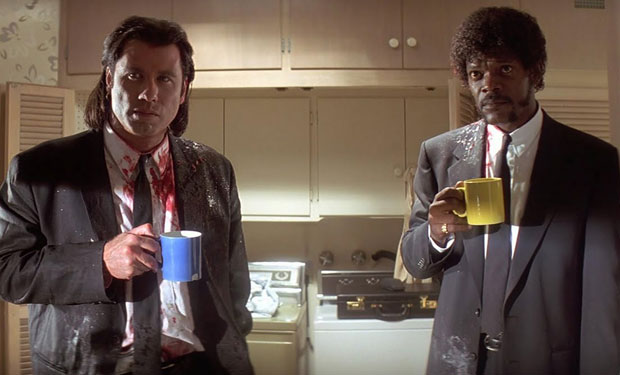 Posted by K Thor Jensen on
Quentin Tarantino is notorious for filling his movies with in-jokes and references, and even the biggest fan can't catch them all. Here are eight you may have missed.
8. Pulp Fiction Goes Dutch
Tarantino started the screenplay for Pulp Fiction while in Amsterdam, and the film has multiple references to Holland, including the use of Drum tobacco and Fabienne's nickname being "Tulip."

---
7. Kwai Chang Caine's Flute
The flute that David Carradine's character carries in Kill Bill wasn't in the script – it actually belonged to Carradine, who carved it himself on the set of Kung Fu in the '70s.

---
6. Jackie Brown Is a Movie Within a Movie
When we first see Max in Jackie Brown, he's walking out of a movie theater and you can hear the flick's ending credits music. That music is… the ending credits to Jackie Brown. Whoa.

---
5. Jamie Foxx Brought His Own Horse
Bet you didn't know that the actor/singer was also a trained equestrian? Cheetah, a chestnut stallion, was given to Foxx as a birthday present in 2009 and starred with him in Django Unchained.

4. Quentin Loves Petty Revenge
In 1993, Tarantino offered the role of Marsellus Wallace to character actor Sid Haig, only to be turned down. 17 years later, Haig was in line to play Mr. Stonesipher in Django Unchained, but Tarantino gave it to David Steen at the last minute just to rub salt in the wound.

---
3. The Syringe Was Backwards
To make the scene where Vincent Vega stabs Mia Wallace in the chest with an adrenaline needle as realistic as possible, Tarantino filmed it in reverse – Travolta actually pulls it out of Uma Thurman, and then the film was played backwards.

---
2. The Cash in Jackie Brown Is Real
When Jackie goes to make the exchange, she's carrying a bag that had $500,000 of actual currency – 1/24th of the film's budget.

---
1. His Cameos Can Be Tricky To Spot
Like Hitchcock, QT enjoys slipping himself in cameo roles in his flicks. Some are easy to spot – Mr. Brown in Reservoir Dogs. But some are harder – it's his hands choking Diane Kruger in Inglourious Basterds and his voice on Jackie's answering machine in Jackie Brown.

---
video player loading
.
.
.