Here's Everything That Was Awesome About Last Night's Oscars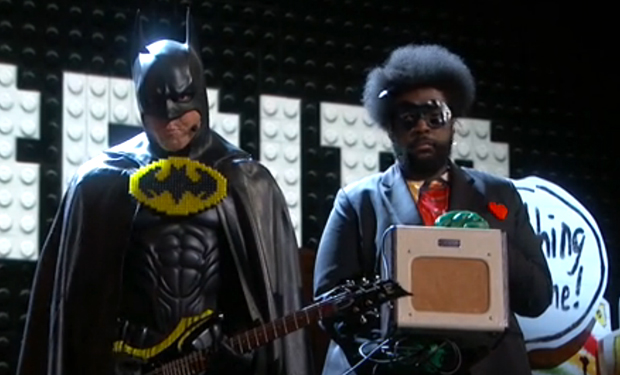 Posted by Cher Martinetti on
I don't know about you guys, but my Oscar night ritual involves wine and Twitter because there's nothing like alcohol to really up the entertainment value of an epically long awards show. And while last night's show seemed to fall short in the funny department, there were a few moments that managed to bring the LOLs, some of them not intentionally. Thanks to the countless people hate-watching the Oscars, Twitter was a sea of alcohol-infused snark and instant memes. Here are some of the highlights.
Jack Black Vs. Hollywood
Every awards show could use a Jack Black musical rant, especially when said rant pretty much sums up what everyone is most likely thinking about the current state of the movie industry. Seriously, how long until we get half a dozen Fifty Shades knockoffs?
Jack Black played the part of Everyone At The New Beverly Cinema in that opening number, #Oscars

— Patton Oswalt (@pattonoswalt) February 23, 2015
They played it for laughs, but everything Jack Black sang was the truth. #OscarsSins.

— cinemasins (@cinemasins) February 23, 2015
---
The Lonely Island and Tegan and Sara Were Awesome
Andy Samberg's post-SNL career is making me realize we barely got to scratch the surface of how funny he is. And last night, The Lonely Island brought the house down. There was so much awesomeness happening on that stage, from the Beastie Boys-esque rapping, the caped tuxedos (how is this not a thing?), and a cameo from everyone's favorite me-Batman, Will Arnett (who was actually wearing Val Kilmer's Batman suit).
---
Ida's director becomes an unlikely hero
Everyone knows the not-so-subtle cue to wrap it up once the music starts playing. But Pawel Pawlikowski wasn't having it. The Ida director shut it down and instantly became a Twitter hero.
#IdaGuy has started a revolution. He is the Mockingjay of #Oscars2015

— Melissa Grey (@meligrey) February 23, 2015
BRING BACK THE IDA GUY! BRING BACK THE IDA GUY! #TeamIdaGuy

— Wil Wheaton (@wilw) February 23, 2015
The Ida guy just won everything.

— Kumail Nanjiani (@kumailn) February 23, 2015
---
John Travolta is everyone's creepy uncle.
Travolta managed to out do last year's gaffe by being the Joe Biden of the Oscars, quickly inspiring a Photoshop battle on Reddit.
#Oscars2015 pic.twitter.com/Bu54jfGH6I

— darth™ (@darth) February 23, 2015
John Travolta says hi pic.twitter.com/Bj11mSb3cL

— Omar L. Gallaga (@omarg) February 23, 2015
---
NPH couldn't predict how bad his prediction bit would be
This bit was doomed from the jump. But the internet had plenty of suggestions that could have made this work. Too bad none of these were the case.
So I need Brad Pitt to come on the stage at the end of the show and yell at NPH: "WHAT'S IN THE BOX?! WHAT'S IN THE BOX?!"

— Wil Wheaton (@wilw) February 23, 2015
I bet David Blaine's head is inside NPH's briefcase in a box.

— John Hodgman (@hodgman) February 23, 2015
I'm disappointed that @jtimberlake's 'member' wasn't in that box. #Oscars

— Jackée Harry (@JackeeHarry) February 23, 2015
---
Meryl Streep is woman, hear her roar
Patricia Arquette gave the speech of the night with her appeal for equal pay for women.
To which Meryl Streep responded with an enthusiastic "you go girl":