Fred Armisen's 15 Best Musical Moments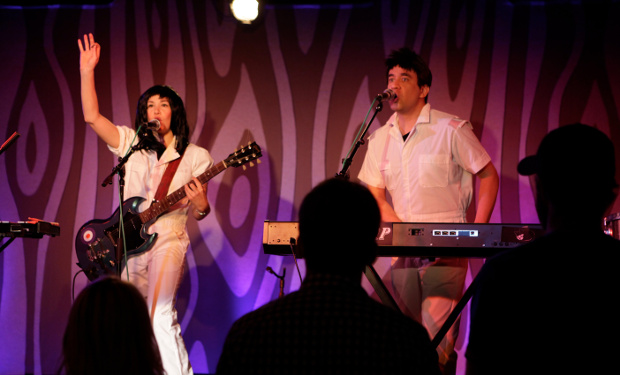 Posted by Brian Steele on
Thanks to Saturday Night Live and Portlandia, Fred Armisen has become one of the most influential comedians working today. But he started out on a very different path. When Fred dropped out of New York's School of Visual Arts in 1988, it wasn't to join Second City, or hit the stand-up circuit. No, he left to pursue his lifelong dream of becoming a musician.
While his career has clearly evolved in unexpected ways, Fred's never left his musical side behind. Here is a look at some of the most formative, and important musical moments of his varied career.
15. Trenchmouth
Fred Armisen first became known as the drummer for this post-hardcore band out of Chicago in the early 90s. While popular, Armisen saw too many other bands pass them by, and left to pursue other things in 1996.
---
14. Blue Man Group
Armisen credits Blue Man Group for giving him that first check as a professional musician. He toured with them for two years, but as a drummer. He never actually "blue himself," in the immortal words of Tobias Funke.
---
13. Fred Armisen's Guide to Music and South by Southwest
In 1998 Fred traveled to the South by Southwest Festival, recording a travelogue as he went. While his comedy was still in its infancy here, the variety of eccentric characters he inhabits made for a memorable video. This is probably the moment he transitioned from a funny musician to a comedian who can play the drums.
---
12. Chevelle's Point #1 
Armisen knack for characters pop up again in this "electronic press kit" for alternative metal band Chevelle's debut album, Point #1. Fred can be seen making legendary record producer Steve Albini vaguely uncomfortable while interviewing him in character. These bits soon turned into a career of comedy characters for HBO Zone and Bob Odenkirk's sketch comedy show Next!
---
11. Saturday Night Live
Once cast on SNL, Armisen made music and musicians an integral part of his comedy. From Fericito, to Joshua Rainhorn, to Giuseppe, many of his best-loved bits showed off his musical skills. When he finally called it quits, his last sketch paid tribute to the punk rock he grew up listening to, with the help of rock stars such as Sonic Youth's Kim Gordon, Aimee Mann and his Portlandia pal Carrie Brownstein.
---
10. Les Savy Fav
Indie rock band Les Savy Fav had Armisen play drums on the group's fourth album, "Let's Stay Friends." A number of the band's members later went on to join Fred's 8G Band on Late Night with Seth Meyers.
---
9. Jens Hannemann
Armisen's love of drums and comedy exploded into one another in the form of Jens Hannemann. After becoming obsessed with the bizarre subgenre of educational DVDs, he created this alternate persona. Hannemann, with an indeterminate foreign accent, offers bizarre, virtually impossible to follow drumming instructions in a handful of videos, including "Fred Armisen Presents: Jens Hannemann Complicated Drumming Technique." Armisen also briefly joined Joanna Newsom's 2010 tour in character.
---
8. Crisis Of Conformity, "Fist Fight!"
In 2010, Armisen took part in a sketch about a fictional '80s hardcore band reuniting at a wedding. Soon thereafter, a 7-inch for the Crisis of Conformity song "Fist Fight" suddenly appeared in indie label Drag City's catalog, as if it had been there all along. Armisen called the surprise "a love letter to [his] teenage years."
---
7. Portlandia
It makes sense that Armisen found a comedy soulmate in Carrie Brownstein. Reminding him of the funny musician he once was, they teamed up to transcend both labels with IFC's Portlandia. Mocking and celebrating the grass fed, fair trade, earlobe stretching world we now find ourselves in, they declared their thesis statement with a now famous song.
6. Rockstar friends
Portlandia quickly became the destination for the underground music scene. Johnny Marr had to use a bicycle valet, Aimee Mann became a maid and Eddie Vedder got an Ani DiFranco tattoo.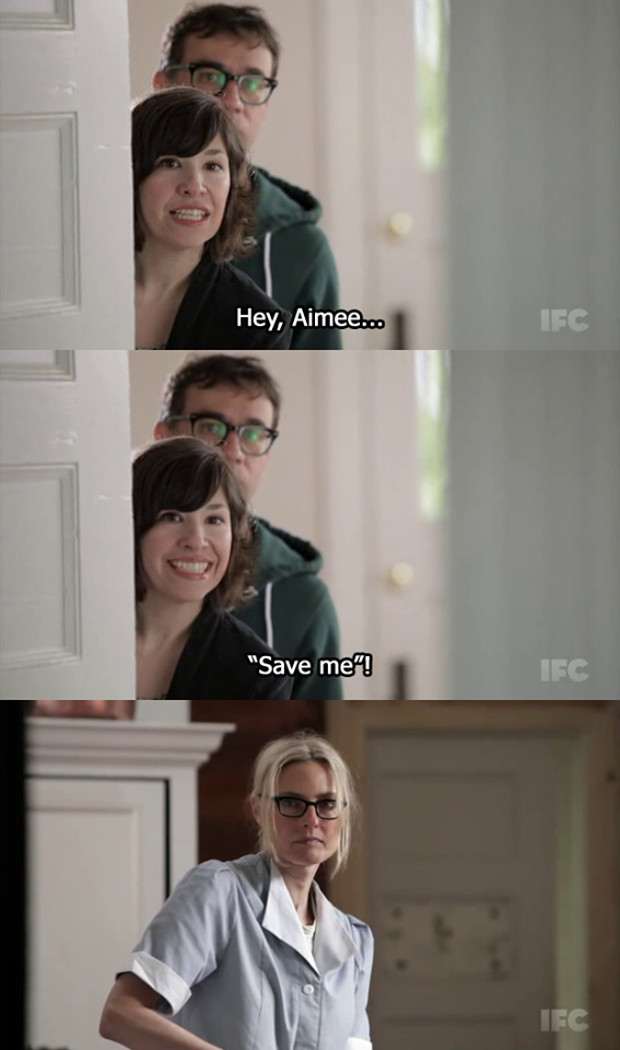 ---
5. The Tonight Show Drum-Off
Not content to stick to Late Night, Armisen stopped by The Tonight Show to promote his expansive series of projects and engage in a drum off with Roots bandleader Questlove.
---
4. Kings of Leon
In 2013, Fred made a series of short videos for Amex Unstaged starring Kings of Leon. In them, he awkwardly surprises the band, mocks drummer Nathan Followill, and has them race to see who is truly the King of the Kings of Leon. He then "directed" a concert of theirs in London, offering suggestions through a live feed on the other side of the world.
---
3. Late Night with Seth Meyers Bandleader
At no point since his early days as a struggling musician has music played such an important part in Fred's career. In 2014, he became bandleader of the 8G Band on Late Night with Seth Meyers.
---
2. Sleater-Kinney
Comedy partner Carrie Brownstein released a new album with her acclaimed band Sleater-Kinney in 2015, and jokingly revealed that Fred now considers himself a part of the band. Here he stars in the video for their latest single.
---
1.  SNL cameo 
Finally, Fred brought it all full circle. Returning to Saturday Night Live this past January, he survived a Whiplashing from JK Simmons, and showed he's still knows how to bang those buckets.