10 Signs You're Watching a Buddy Cop Movie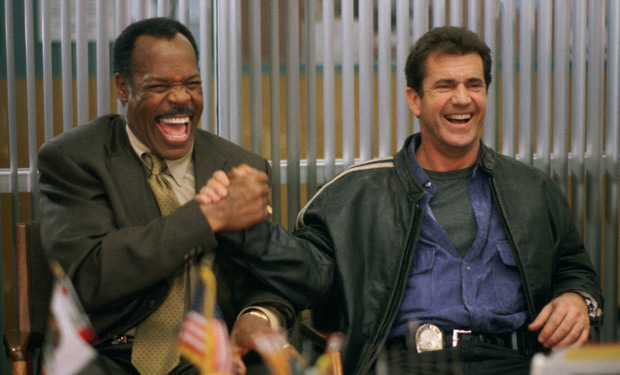 Posted by K Thor Jensen on
Did you know that the buddy cop genre dates back to Kurosawa's Stray Dog, released in 1949? Since then, dozens of flicks have expanded the formula. Here are 10 things you'll see in just about every buddy cop movie.
10. They're An Odd Couple
Lethal Weapon epitomizes the central buddy cop trope. Roger Ebert used to call them "Wunza movies" – in this case, one's a loose cannon and one's a straight-laced family man.
---
9. Their Boss Hates Them
A vital part of the buddy cop dynamic is the fact that their boss can't stand either of them and chews them out on every possible occasion.
---
8. Who Gets To Drive?
The leading cause of friction between buddy cops is who gets the keys to the car and who has to ride shotgun.
---
7. The Interrogation Scene
When the cops need information, the way they get it is by beating it out of a low-level scumbag in a closed room. Police work at its finest.
---
6. Turn In Your Badge And Gun!
The loose cannon often has to step away from the force as a result of his antics, and we usually get a dramatic scene involving badges being slapped down onto desks.
5. The Building Dangle
When the regular interrogation doesn't work, true buddy cops will each grab a pant leg and shake a guy out over a high drop.
---
4. A Crack Shot
At least once in every buddy cop movie worth its salt, one of the heroes will manage to pop a creep with a once-in-a-lifetime shot.
---
3. A Bonding Moment
About 2/3 of the way through, you can bet your life that the pair of cops will have a heart-to-heart about a serious issue.
---
2. Car Chases
When you're a cop with a buddy, one of you can drive while the other one shoots. It's just a perk of the genre.
---
1. Something Explodes
Well, duh. You can't be sure that your crime's been totally solved until there's at least one enormous explosion.