15 Things You Probably Didn't Know About Caddyshack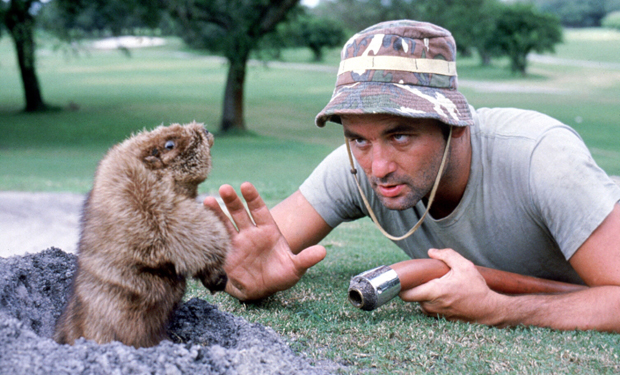 Posted by IFC on
9. The Murray Brothers Knew How to Use a Baby Ruth
The "candy bar in the pool" scene was based on an actual prank that the Murray brothers played in their high school's swimming pool.

---
10. The Gopher's Appearances Were an Afterthought
The shots of the gopher puppet were inserted into existing scenes after principal photography to add a narrative through-line to the film. The puppet and the shots were created by the Oscar-winning Star Wars visual effects supervisor John Dykstra.

---
11. You've Heard the Gopher Before
The sound effects for the gopher were reused from the TV series Flipper.
---
12. The Theme Song Could Have Been Very Different
Kenny Loggins was the filmmakers' second choice to create original music for the opening and closing credits. Ramis originally wanted Pink Floyd, but the band declined because they were too busy touring to support The Wall.

---
13. The Director's Cut Was Truly Epic
The original rough cut of the movie was four and a half hours long. It was packed with so many good jokes that Ramis didn't want to edit any of them out.
---
14. Murray and Chase Did Some Brilliant Improv Work
The original script didn't include a scene where Carl and Ty meet, so following a note from the studio, Chase, Murray, and Ramis brainstormed an outline of a scene over lunch and later improvised the entire scene while cameras rolled.

---
15. The Finale Was an Actual Caper
The climactic scene featured real explosions on a fake green built at the Rolling Hills Country Club in Davie, Florida, where the film was shot. Initially the production wasn't allowed to use real explosives, but the filmmakers took the club's unsuspecting owners out to lunch so they could blow up the green anyway.