15 Things You Probably Didn't Know About Caddyshack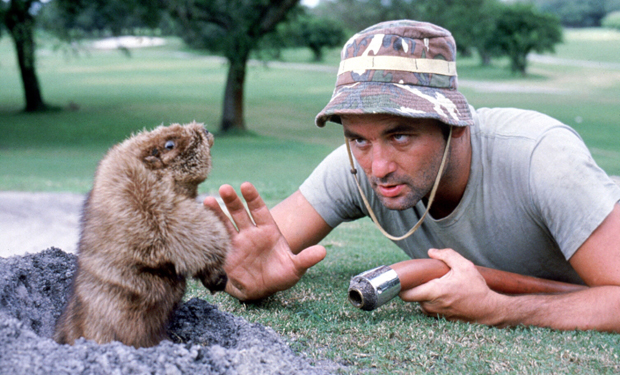 Posted by IFC on
You may already know your favorite moments from Caddyshack by heart, but after reading this list, you'll be a lock for membership at Bushwood Country Club.
1. The Film Had a Simple Premise
Following their success with Animal House, screenwriters Doug Kenney and Harold Ramis pitched a handful of ideas for new movies to Orion Pictures. Every idea got rejected. When the duo teamed up with Brian Doyle-Murray pitch the concept of "Animal House on a golf course," the idea received an immediate greenlight.

---
2. Harold Ramis Wasn't a Golfer
Before directing Caddyshack, he'd never played a round in his life.
---
3. Bill Murray Didn't Just Inspire Carl Spackler
Danny Noonan's dozens of family members were inspired by Brian Doyle-Murray's real-life family, which includes nine siblings (three sisters and six brothers, including Bill Murray, who plays Carl Spackler in Caddyshack).

---
4. There Really Are Caddy Scholarships
The eldest Murray brother, Ed, had actually won a golf caddie tournament scholarship called the Chick Evans Caddie Scholarship. He used his winnings to help put himself through Northwestern University.
---
5. And There Was a Real Bushwood Country Club
The upscale Bushwood Country Club is based on the Indian Hill Club where Brian Doyle-Murray and his brothers worked during childhood summers in Winnetka, Illinois. Bill Murray ran the hot dog stand at the club when he was a teenager.
6. The Film Helped Rodney Dangerfield Earn Hollywood's Respect
Caddyshack was Dangerfield's first big-time movie appearance, but the comedian allegedly had a tough time on-set early on — he thought he was unfunny because no one was laughing at his jokes. Scott Colomby (who plays Tony D'Annunzio) had to assure the newbie that any audible laughs would ruin the take.

---
7. Carl Spackler Exaggerated His Personal Connections
Despite Carl's priceless story about caddying for the religious leader, earlier this year the Dalai Lama revealed that not only had he never played golf – he'd never seen Caddyshack.

---
8. According to Ramis, Caddyshack Functions as a Marx Brothers Film
Dangerfield is Groucho, Murray is Harpo, and Chevy Chase is Chico.