15 Pretty Chill Facts About Cheech & Chong: Still Smokin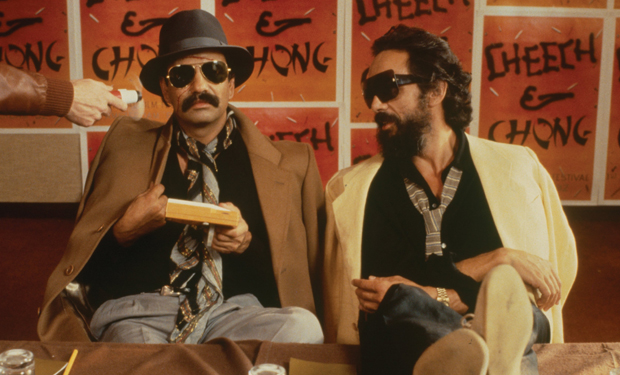 Posted by IFC on
Here are 15 fun tidbits about the famed comedy duo's 1983 film.
1. Still Smokin is the fifth live action movie featuring Cheech Marin and Tommy Chong.
The sixth and final is 1984's Cheech & Chong's The Corsican Brothers.

---
2. But it's the last live action Cheech & Chong movie to feature the comedy duo as their stoner characters.
In The Corsican Brothers, Cheech and Chong play the titular brothers in a parody adaptation of Alexandre Dumas' novella of the same name.
---
3. Still Smokin was originally conceived as a way to preserve the material the duo performed on their live tour.
---
4. Cheech Marin allegedly didn't want to appear in Still Smokin because he was tired of being stereotyped as a stoner.
He was so adamant about changing his image the contract for his next movie stipulated that there would be no pot jokes in the movie at all.

---
5. The film was shot entirely on location in Amsterdam.
Even the final 20-minute "live" sequence.
---
6. At the time of the film's release, Amsterdam did not host a film festival.
While the Amsterdam International Film Festival is fictitious, in the years since the film's release a number of film festivals (including the Amsterdam Film Festival) originated in the Dutch city.
---
7. Still Smokin was released a year after The Best Little Whorehouse in Texas, starring Burt Reynolds and Dolly Parton.
This partially explains how Cheech and Chong come to be mistaken for the pair while attending the film festival. When Cheech and Chong arrive at the Amsterdam airport, you can see posters for the movie in the background.

---
8. Two of the movies that the duo spoofs are E.T. and Star Wars.
9. The back of Chong's denim jacket reads "Cheech & Chong's Los Cochinos."
This is the name of a comedy album released by the duo in 1973.

---
10. The animal footage in the scene where Cheech and the Geran maid "retire" to the bedroom was an after-thought.
The film's editor, James Coblentz, added it in post-production in lieu of gathering the actors to reshoot the originally-planned scene.
---
11. The title of the film technically doesn't refer to smoking marijuana.
Cheech and Chong say the title of the movie comes from some particularly pungent feces in the sketch where they act like dogs.
---
12. "The Harder They Didn't Come" is a loose parody of the 1972 Jimmy Cliff reggae film The Harder They Come.
---
13. Portraying the characters Bruno Hockaloogie and Itchy Scratchy wouldn't be the last time Cheech and Chong appeared in a wrestling ring.
In 2010, they appeared on WWE Raw as themselves.
---
14. Unfortunately, the real Queen Beatrix doesn't appear in the film.
Dutch actress Carla van Amstel plays the Queen.
---
15. The live footage at the end of the movie was shot at the Tuschinski Theatre in Amsterdam.
It was Cheech and Chong's final live show appearance.