The 10 Biggest Jerks in Holiday Movies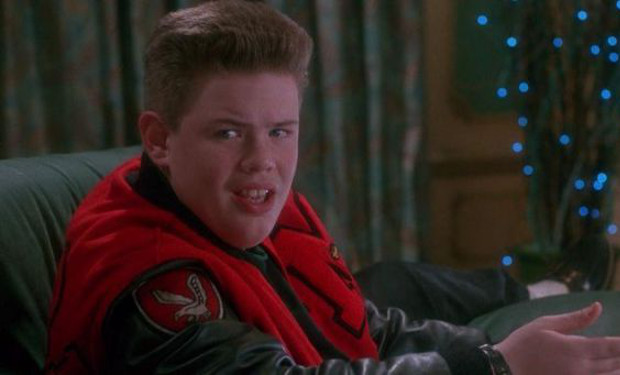 Posted by Nick Nadel on
Holiday movies are packed with beloved characters. Perhaps that's what makes the jerks, a-holes and dirtbags in our favorite seasonal classics stick out like expired eggnog.
Often the worst characters in holiday films aren't straight-up villains — they're the every day slimeballs who're just as greedy, lazy and self-serving on Christmas as they are the other 364 days of the year. As we approach Christmas Eve, take a look at our salute to the nastiest characters in holiday movies. It's the perfect antidote to the season of heartwarming treacle.
10. Mark, Love Actually 
Yeah, yeah, it's sooo sweet when he holds up those cue cards for Keira Knightley that say she's perfect or whatever. But keep in mind he's crushing on his best friend's wife. Dude literally was best man at their wedding a week before he took Sharpie to poster board. Mark must have ice water running through his veins, cause that's just cold.
---
9. Grover Dill, A Christmas Story
Sure, Scut Farkus is a douche, but you kind of feel bad for him after the vicious beating he receives from that BB gun-toting psycho Ralphie. But look at Scut's flunky, the oddly named Grover Dill, with his dumb hat and that face that's just asking for Ralphie's fists of fury. At least Scut's an individual. Grover's just a boot-licking toadie dressed like Marlon Brando in The Wild One.
---
8. Concierge, Home Alone 2: Lost in New York 
Tim Curry's snooty concierge tries to harsh Kevin's NYC buzz from the moment he enters the Plaza. A child in the lobby of New York City's finest hotel (cira 1992)?? Not on Concierge's watch. He's the smarmiest character in the movie, which says a lot in a film that features both Uncle Frank and a cameo from Donald Trump.
---
7. Todd and Margo, National Lampoon's Christmas Vacation
With their shiny tracksuits and fancy stereo system, the Griswolds' neighbors Todd (Nicholas Guest) and Margo (Julia Louis-Dreyfus) are basically walking cliches of late '80s yuppie excess. They aren't all that friendly to the Griswolds or even that nice to each other. ("Why is the carpet all wet, Todd??" "I don't know, MARGO!!") Still, you almost feel bad for them. They didn't ask to be plagued by trees crashing through their window and random squirrel attacks.
---
6. Buzz, Home Alone 2: Lost in New York
In the first Home Alone, Kevin's older brother Buzz is your average dimwitted bully with an unfortunate looking girlfriend. But in the sequel he shows a whole different level of smarm when he puts Kevin on "trial" in front of his entire family. (It's safe to say Buzz grew up to be a sleazy lawyer of the Saul Goodman variety.) Though we still have no idea what a "trout sniffer" is.
5. The Rest of the McCallister Family, Home Alone and Home Alone 2: Lost in New York
Really, outside of the mom, are the McCallisters all that concerned that little Kevin is stuck home alone/lost in New York? Papa McCallister makes zero effort to get back to Kevin in either movies. Both brothers tease and bully him constantly. His sisters use phrases like "helpless idiot" and "Les Incompetent" right to his face. And what do they get for their behavior? A trip to Paris in Home Alone and a bunch of free gifts at the end of Home Alone 2 that they did absolutely nothing to earn. Had Macaulay Culkin returned for a third outing, the title should've been Home Alone 3: Motion for Emancipation.
---
4. Ghost of Christmas Present, Scrooged 
You would think that Bill Murray's network exec Frank Cross would be the biggest jerk in the movie, seeing as how he's the Scrooge stand-in. But Carol Kane's perky Ghost of Christmas Present has him beat, at least in the random violence department. Kane's ghost takes pleasure inflicting physical harm on Frank, be it via a swift kick between the legs or a toaster to the face. She should team up with that budding psychopath Kevin McCallister. Imagine the horrific torture they'd inflict upon their enemies.
---
3. Marcus, Bad Santa
Marcus, the double-crossing elf assistant to Billy Bob Thornton's titular Santa, ends up being the real bad guy of this dark holiday classic. As Buddy would say, he's quite the angry (and gun-toting) elf.
---
2. Mr. Gower, It's a Wonderful Life
Besides being a drunk who nearly poisons his customers, Emil the cranky pharmacist smacks young George around and makes his ear bleed. Mr. Potter's bad and all, but he never smacked a kid in his bum ear.
---
1. Uncle Frank, Home Alone 
Is there a more loathsome character in holiday movies, nay, in all of pop culture, than Uncle Frank? He's cheap (he spends two movies mooching off of his brother), selfish (he's more concerned about forgetting his glasses than Kevin's well being) and sings off-key in the shower. You can just feel his hatred towards Kevin (and, really, all children) in his oft-quoted line from the first Home Alone. ("Look what ya did, ya little jerk!")