10 Funniest British Flicks of All Time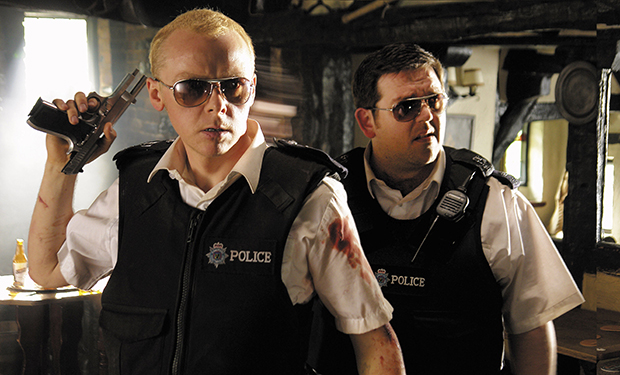 Posted by K Thor Jensen on
British comedy has a style all its own, with a pronounced quirkiness and unique pacing. Here are our picks for the best funny flicks from the other side of the pond.
10. In Bruges
This very dark comedy strands Colin Farrell and Brendan Gleeson as two Irish hitmen in Belgium hiding out and going nuts.
---
9. The Ladykillers
When five crooks plot a van robbery, they rope in a hapless old lady who proves to be more than they can handle in this 1955 classic. (You might also remember the less classic 2004 Tom Hanks remake.)
---
8. The Trip
"Two guys eat at restaurants" doesn't seem like an engaging premise, but when it's Steve Coogan and Rob Brydon the end result is a fantastically hilarious movie.
---
7. Snatch
Guy Ritchie's hyper-macho crime fetish gets played for laughs in this riotous flick that features an unintelligible Brad Pitt.
---
6. A Hard Day's Night
Richard Lester's slapstick collaboration with the Beatles is warm-hearted and pleasantly surreal, embracing the absurdity of their fame.
5. Bedazzled
This brilliant 1967 Dudley Moore vehicle tells the tale of a nebbish who gets seven wishes from the Devil. Way better than the American remake with Brendan Fraser.
---
4. Monty Python and the Holy Grail
It was sheer torture to pick just one Python flick for this list, but Holy Grail is the absurdist troupe's most accessible big-screen offering.
---
3. Dr. Strangelove
Stanley Kubrick's apocalyptic comedy masterpiece depicts a world teetering on the brink of nuclear war and going over with a big "Ya-hoo!"
---
2. Hot Fuzz
Edgar Wright's unique take on the buddy cop movie transplants Bad Boys attitude into the curious world of rural Britain.
---
1. Withnail & I
One of the most quintessentially British flicks of all time, this grimy dive into layabout culture is quotable from beginning to end.