5 More Musical Theater Roles Christopher Walken Should Play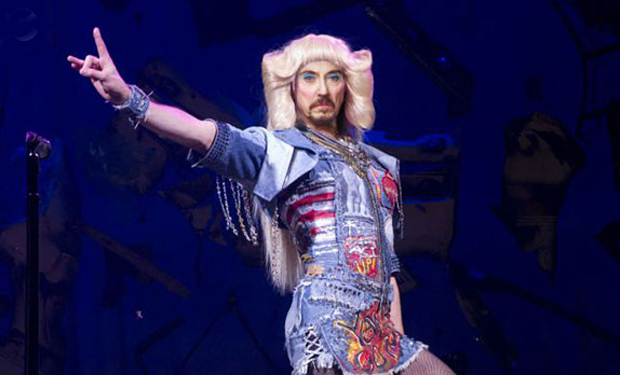 Posted by Nick Nadel on
The Internet is split today on NBC's live Peter Pan musical, with some people hate loving it while others just plain hated it. But there's one thing that everyone can agree on: Christopher Walken was at his most Christopher Walken-ist as Captain Hook. Sure, he flubbed a few lines and seemed to have been told what musical he was in five minutes before the broadcast went live. But he's still Christopher Walken, and therefore should be cast in all the musicals. Here are a few more musical theater roles we'd like to see Walken tackle. (Images by Kristy Puchko)
1. Sweeney Todd

Attend the tale of Sweeney Todd, the killer barber who…talks…very…slowly. We'd love to see what sort of verbal stew Walken would make of Stephen Sondheim's famously verbose lyrics.
---
2. The Landlord in Rent

The role of Benny, the yuppie landlord threatening to kick out the singing squatters, could benefit from Walken's signature oily charm.  Plus, since it's a small role, he can spend most of the show's running time sitting down backstage. The guy's a senior citizen, after all.
---
3. Charlie Brown in You're a Good Man, Charlie Brown 

Seeing as how NBC is resurrecting every musical your grandparents grew up with, it's only a matter of time before they dig out this old chestnut. And clearly the role of the titular hangdog sad sack should be played by Christopher Walken.
---
4. Shrek in Shrek: The Musical

Casting Christopher Walken as the beloved Scottish ogre is exactly what this show needs to get it back on Broadway. And he wouldn't require all that much in the way of prosthetics.
---
5. Hedwig in Hedwig and the Angry Inch

Who better to follow Hedwig creator John Cameron Mitchell in the hot Broadway revival than Christopher Walken? Audiences are sure to pay top orchestra prices to see a 71-year-old in fishnets.