4 Brilliant Moments in SNL's "Office: The Hobbit"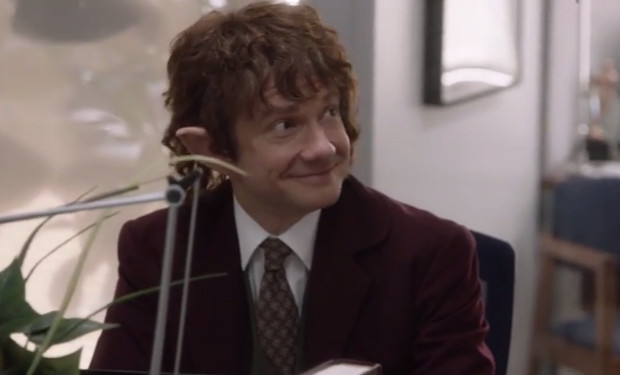 Posted by Cher Martinetti on
SNL has come up with some killer skits the past couple weeks, and this one is definitely going to make the list of all-time funniest. Host Martin Freeman joins the cast for a hilarious parody that combines his roles in The Hobbit movies and the BBC version of The Office. Here are a few of our favorite moments from the sketch that was definitely the highlight of the show.
4. The Jell-O incident
On the list of epic pranks that Tim pulled on Gareth on The Office (and Jim pulled on Dwight in the American version), the whole "stapler in the Jell-O mold" thing is one of the best. It's also the one that people probably emulated the most.
---
3. Martin Freeman's most meta role ever
Before there was Jim, there was Tim. And Martin Freeman as Bilbo as Tim (the role that put him on the map) is mind-blowingly awesome.
---
2. Bobby Moynihan nails it as Ricky Gervais as Gandalf
Moynihan's cringe-inducing arrogantly awkward office manager is pure Gervais. Bonus for finding a way to use "Dildo Baggins" in a non-porn parody form.
---
1. Taran Killam as Gollum
Everything about Taran's Gollum is perfection, but the famous to-camera interviews The Office employees gave lends itself perfectly for Gollum's duplicitous personality.
Watch the hilarious sketch below: