15 Things You Probably Didn't Know About Half Baked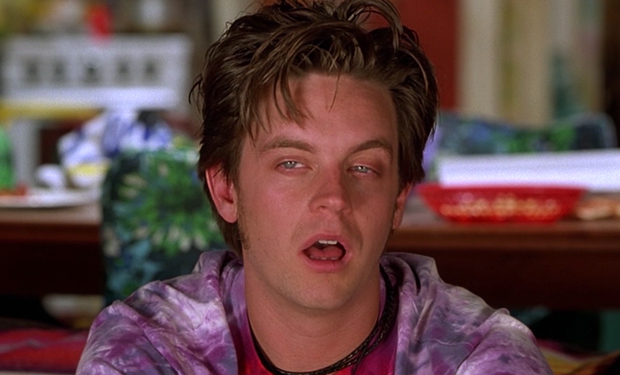 Posted by IFC on
You may have known these facts at one point, but it's easy to see how the stoner classic could make viewers a little forgetful.
1. The Script Was a Team Effort
Half Baked was written by star Dave Chappelle and his writing partner Neal Brennan. The duo would go on to co-create the legendary series Chappelle's Show for Comedy Central in 2003. Brennan has a cameo in Half Baked as the cashier at the burger joint where Scarface works.

---
2. New York City Was a Key Inspiration
Chappelle was inspired to write Half Baked after a friend told him about New York City drug dealers who conveniently deliver illicit substances to customers' apartments.
---
3. The Opening Scene Was a Risk for the Studio
The studio originally wanted to cut the opening scene showing kids smoking marijuana and getting the munchies, but decided to keep it after audiences at test screenings found it hilarious.

---
4. Directing It Was a No-brainer
Director Tamra Davis only read 10 pages of Chappelle and Brennan's script before accepting the directing job.
---
5. The Film Had a Music-video Pedigree
Davis is also humorously listed as the director of Sir Smoka Lot's "Samson Gets Me Lifted" music video in the film. Prior to directing feature films like Half Baked and Billy Madison, Davis directed over 30 actual music videos, including Tone Loc's "Wild Thing" and Hanson's "MMMBop."

---
6. Most of "New York" Is Really Toronto
The film was shot over 40 days, primarily in Toronto. Three days of exterior shooting were done in New York to feature landmarks like Washington Square Park.
---
7. Producers Pulled out all The Stops on Cameos
Tracy Morgan makes a cameo as the VJ who introduces Sir Smoka Lot's music video. Other cameos in the film include Jon Stewart, Tommy Chong, Willie Nelson, Snoop Dogg, Janeane Garofalo, Stephen Baldwin, and Bob Saget.

---
8. There Was a Real Guy on the Couch
The Guy on the Couch was inspired by a friend of Chappelle's who constantly crashed on Chappelle's couch while he and Brennan toiled away at writing the screenplay. In the film, the role of the Guy went to comedian Steven Wright.