10 '90s Comedies That Really Need Sequels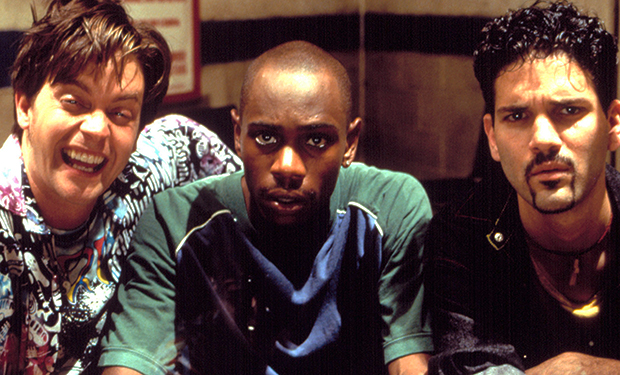 Posted by K Thor Jensen on
The 1990s were a fertile time for cinematic comedy, with lots of exciting new voices being heard for the first time. The decade saw plenty of sequels, but these 10 movies were shamefully passed over.
10. Living In Oblivion
Tom DiCillo's vicious skewering of the independent film world is a cult classic, and a sequel would have been just as good.

---
9. Nothing But Trouble
I might be the only person on Earth who liked this 1991 oddity – star Dan Aykroyd refuses to even discuss it – but a sequel would have been unforgettable.

---
8. Airheads
Easily Brendan Fraser's best movie, this hard rock hostage comedy had great characters that could have supported another flick.

---
7. Fear of a Black Hat
This hip-hop mockumentary came out in 1993, but the world of rap music changed enough in the interim that a sequel would be awesome.

---
6. Dazed and Confused
Richard Linklater has shown that he's willing to revisit characters across multiple movies, so why not go back to the 70s retro flick that made him famous?

5. Stay Tuned
This semi-obscure John Ritter vehicle about a husband and wife trapped in a Satanic netherworld of TV show parodies certainly could have produced a second installment. Sadly, Ritter passed away in 2003, so this one will always be a pipe dream.

---
4. Very Bad Things
Peter Berg's 1998 black comedy starts with the accidental death of a hooker and then just gets darker and crazier from there, and while most of the cast ends up dead or crippled a prequel could have worked.

---
3. Kingpin
It's a crime that the Farrelly Brothers gave us a Dumb & Dumber sequel but not a follow-up to this incredibly gross bowling farce.

---
2. Office Space
Mike Judge's career has taken him between movies and TV for the last few decades, but Office Space still stands as his crowning achievement.

---
1. Half Baked
Possibly the best stoner comedy of all time, star Dave Chappelle went on to bigger and better things but we'd love to see him play Thurgood Jenkins one more time.