Bob Odenkirk and The Birthday Boys Helped Fix the Internet Last Night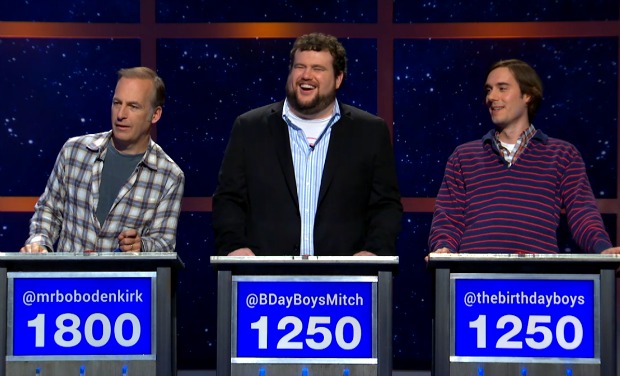 Posted by Melissa Locker on
As you may have heard and seen (and now can't unsee), a certain Kardashian asset broke the internet yesterday. Luckily for the World Wide Web, Bob Odenkirk and The Birthday Boys stopped by @midnight to share a few suggestions as to how to repair the damage done to everyone's favorite technology — and once Bob figured out how to use the show's technology he had some great ideas to contribute.
And unlike Chris Hardwick on this week's Comedy Bang! Bang!, no one hijacked the show and insulted the host.
---
Then they helped name some new Lame World Records, including "World's Most Average-Sized Twins":
---
And there was still time for a rapid-fire round of Redonkulus Rift:
Want the latest news from The Birthday Boys? Like them on Facebook and follow them on Twitter @BirthdayBoysIFC.
The Birthday Boys airs on IFC on Fridays at 11:30p