15 Surprising Facts About Beetlejuice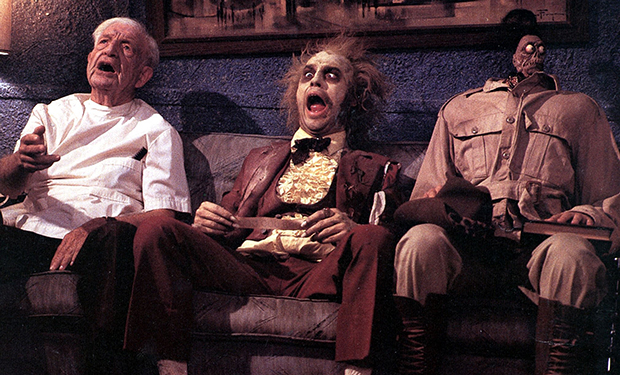 Posted by IFC on
Thanks to its bonkers blend of comedy and horror, Beetlejuice was a big hit and helped establish director Tim Burton as a unique artist in Hollywood. But there were plenty of quirks and obstacles that came with bringing this ghost with the most to the big screen, as well as some stellar benefits to its success.
1. Early drafts of the script were far less whimsical.
Screenwriter Michael McDowell's original script was far darker than the final script, which was rewritten by screenwriters Larry Wilson and Warren Skaaren. Originally it imagined Beetlejuice as a winged demon whose human form was that of a small Middle Eastern man, and his plan for the Deetzes was more about rape and murder than mischief and marriage. Also, the Maitlands' car crash was far more gruesome.

---
2. An early draft offered a Maitland home for everyone.
The original ending of McDowell's screenplay had Beetlejuice being destroyed by an exorcism and the Maitlands' house shrinking down to the size of Adam's model town. Instead of sharing their home with the Deetz family, they move into the model house and renovate it to look like their full-scale version did before the family arrived. Also, the Deetz parents move back to New York, leaving Lydia to be raised by the Maitlands in Connecticut.
---
3. Skaaren was picked by Burton to bring in playfulness and music.
Part of the rewrites by Warren Skaaren included specific music suggestions, like Lydia lip-syncing to Percy Sledge's "When a Man Loves a Woman." The final film substituted R&B songs for calypso music like Harry Belafonte's hits "Day-O" and "Jump in the Line (Shake, Senora)."

---
4. Sammy Davis Jr. was Burton's first choice for Beetlejuice.
Director Tim Burton originally wanted Rat Pack-member Sammy Davis Jr.—who was 63-years-old at the time—to play Beetlejuice. Producer David Geffen suggested actor Michael Keaton, who was ultimately chosen and would go on to appear in two other Burton films—Batman and Batman Returns.

---
5. It's an Oscar winner.
Makeup artist Ve Neill and her team won the 1989 Best Makeup Academy Award.
---
6. Angelica Huston was very nearly Delia Deetz.
Angelica Huston was originally cast to play Delia Deetz, but she bowed out due to an illness. Actress Catherine O'Hara initially declined Burton's offer for the part, but accepted after Burton flew out to meet with and personally to convince her to take it. O'Hara met and eventually married production designer Bo Welch while working on Beetlejuice.

---
7. Geena Davis and Michael Keaton needed no convincing.
Both Geena Davis and Michael Keaton immediately signed on to the film after meeting with Burton, but he allegedly had to beg Golden Era Hollywood star Sylvia Sidney to play the afterlife detective, Juno. Sidney would go on to work with Burton again on the 1996 alien invasion comedy Mars Attacks!
---
8. Lots of actresses rejected the role of Lydia.
Actresses Lori Loughlin, Diane Lane, Sarah Jessica Parker, Brooke Shields, Justine Bateman, Molly Ringwald, and Jennifer Connelly turned down the role of Lydia Deetz. Juliette Lewis auditioned, but Wynona Ryder won the part once Burton saw her performance in the teen dramedy Lucas.

9. Beetlejuice was nearly called Scared Sheetless.
Warner Bros. executives didn't like the name Beetlejuice and pushed to have it changed to House Ghosts. Burton jokingly suggested Scared Sheetless as an alternate name, and was appalled when Warner Bros. actually considered it.
---
10. Beetlejuice was named after a star.
Beetlejuice was named for Betelgeuse, a star in the constellation Orion.

---
11. "Day-O" played at Otho's real-life funeral.
Harry Belafonte's song "Day-O," which is in the film's memorable song and dance number, was the final song played at the memorial for actor Glenn Shadix (who played Otho in the film), who died in 2010.
---
12. Beetlejuice is barely in his own movie.
Beetlejuice only appears in 17.5 minutes of the 92-minute film.

---
13. Test audiences encouraged a happier ending.
Test audiences responded to Keaton's green-haired ghoul so well that Burton's team went back to create an upbeat epilogue that featured Beetlejuice hassling a sawed-in-half woman before being hexed by a witch doctor. An earlier draft had him stuck in the Maitlands' model town and plagued by sandworms.

---
14. Beetlejuice inspired an animated series.
A cartoon spinoff was inspired by Beetlejuice and ran for 94 episodes. The show completely re-imagined the relationship between Lydia Deetz and the titular character, having Beetljuice take her on wild adventures in the Neitherworld. The Maitlands don't exist in this spinoff, but Lydia got a cast of classmates as well as ghoulish friends like a skeleton bodybuilder and a tap-dancing spider.

---
15. A Beetlejuice sequel is in the works–again!
The box office success of Beetlejuice inspired the development of a sequel in 1990 called Beetlejuice Goes Hawaiian. However, Batman Returns became Burton's priority at the time, and the sequel's prospects went cold until 2011, when Warner Bros. hired Dark Shadows scribe Seth Grahame-Smith to produce a new take on Beetlejuice 2. Keaton, Ryder, and Burton are all in talks to be involved in the potential sequel.