The 10 Best John Hughes Tributes in Movies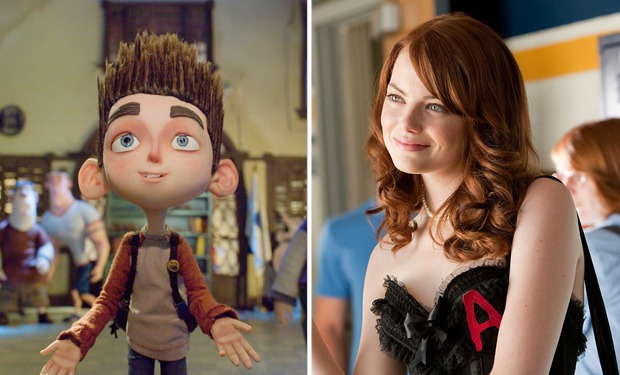 Posted by K Thor Jensen on
Legendary director John Hughes remade the teen rom-com in his image throughout the 80s, so it's not surprising that his filmic fellows would pay homage. Here are ten of the best.
10. Sky High
John Hughes didn't go too far into sci-fi or fantasy, but this 2005 comedy set in a school for superhuman includes a character virtually Xeroxed from Molly Ringwald in Sixteen Candles.

---
9. ParaNorman
The four main characters in ParaNorman are loosely modeled after four of the members of The Breakfast Club, and the film is dedicated to Hughes.

---
8. Hot Tub Time Machine
John Cusack worked with Hughes on Sixteen Candles, and in 2010 director Steve Pink paid homage to that movie's closing scene in Hot Tub Time Machine.

---
7. Dogma
Jay and Silent Bob are on a quest to find the town of Shermer, Illinois – the fictional locale used by John Hughes for many of his films.

---
6. Easy A
This 2010 Emma Stone vehicle rips whole pages out of the Hughes playbook, so it's not surprising that protagonist Olive namechecks Hughes and his movies on multiple occasions.

5. Godzilla
Matthew Broderick starred in this disappointing 1998 reboot of the Japanese monster franchise, but made at least one scene fun by lip-synching "Danke Schoen" from Ferris Bueller in an elevator.

---
4. It's Kind Of A Funny Story
Based on a young adult novel by Ned Vizzini, this 2010 flick set in a psychiatric hospital has a scene that's a direct homage to the hallway bit in The Breakfast Club.

---
3. Austin Powers in Goldmember
The bit with the mole in the third Austin Powers movie is a direct homage to the scene with the school principal's wart in Uncle Buck.

---
2. Night of the Living Dorks
German zombie-nerd comedy Night Of The Living Dorks features a scene straight out of Weird Science when the protagonists open a door onto a wild party.

---
1. Not Another Teen Movie
This one skirts the line between homage and parody, but it wouldn't exist without John Hughes. Hell, the high school in the flick is named John Hughes High!

---
Take a trip to Shermer, IL this Saturday with Sixteen Candles, The Breakfast Club, Uncle Buck and Weird Science airing all day on IFC.

video player loading
.
.
.