10 Horror Movies You Won't Believe Exist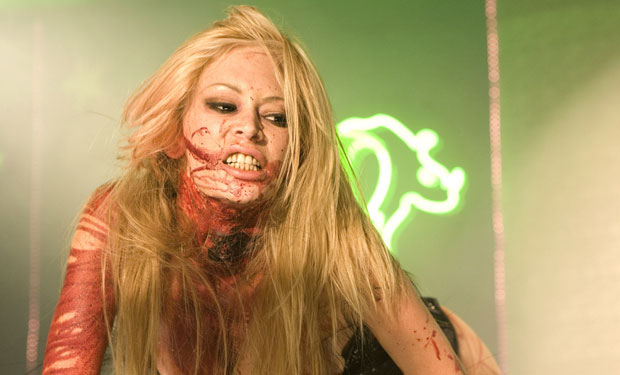 Posted by K Thor Jensen on
Horror is one of the most imaginative genres in Hollywood – any idea can work, as long as it's scary enough. But sometimes fright flicks go a little far into the crazy zone. Here are 10 horror movies you won't believe are real.
Warning: NSFW
10. Ice Cream Man
Ron Howard's geeky brother Clint stars as a mentally disturbed ice cream man who cuts people's heads off and puts them on giant cones.

---
9. Monsturd
When a serial killer gets genetically merged with a slurry of human feces in a sewer, he transforms into a murderous mound of manure.

---
8. Pin
This cult classic from Canada is about a schizophrenic kid convinced that a creepily realistic medical dummy is alive.

---
7. Bad Biology
Trash maestro Frank Henenlotter swung for the fences with this gross-out tale of a dude with a steroid-powered killer penis with a mind of its own.

---
6. Death Bed: The Bed That Eats
Homicidal furniture is a stretch to base a whole film around, but 1977 cheese classic Death Bed gave it the old college try.

5. Black Devil Doll From Hell
This bizarre low-budget oddity from Chicago exploitation filmmaker Chester Novell Turner features a possessed ventriloquist's dummy who terrorizes a churchgoing widow.

---
4. Evil Bong
Legendary sleazemaster Charles Band kept working into the 21st century knocking out bizarre flicks like Evil Bong, about a marijuana delivery device that traps potheads in a demonic dimension.

---
3. Blood Freak
A Vietnam vet smokes pot, eats tainted turkey meat and transforms into a bird-headed psycho killer in this seriously weird 1972 cheapie.

2. Troll 2
Widely regarded as one of the hokiest horror flicks ever produced, this amazingly inept flick doesn't even have any trolls in it – just goblins!

---
1. Zombie Strippers
Because there's nothing sexier than rotting flesh, right? 2008's Zombie Strippers stars Jenna Jameson as an undead peeler who battles for strip club supremacy in the future.