10 Horror Movies That Are More Hilarious Than Scary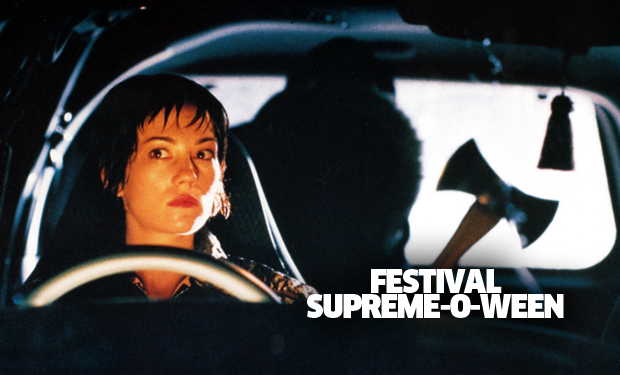 Posted by Andy Hunsaker on
Honestly, it can be hard to tell whether or not a horror movie is unintentionally funny, because so much of the genre thrives on being sort of crappy. Some horror fans think the schlockier, the better – and so do some horror filmmakers. So here's a list of films that are either accidentally hilarious for all the wrong reasons, or where that line between schlockery and mockery is blurred.
10. The Incredible 2-Headed Transplant
You'd think this would have to be intentional comedy, but this trailer makes it questionable.

---
9. The Stuff
An evil parasitic monster disguises itself as yogurt.

---
8. The Beyond
Also known as Seven Doors of Death, you can feel the comedy coming off of this Italian gore-fest.

---
7. Urban Legend
It's trying so hard to be Scream you can feel it (and mock it), proving the fine line between clever and "clever."

---
6. Texas Chainsaw Massacre: The Next Generation
What would normally be a groanworthy sequel becomes funny because it stars Renee Zellweger and Matthew McConaughey before they were famous.

5. The Manitou
Tony Curtis stars in a movie about a baby growing inside a tumor that turns out to be an old Native American shaman reincarnated and out for revenge on the white man. Yeah.

---
4. Friday The 13th: The Final Chapter
The '80s horror icon has long since become horror comedy, but this is funny because the fourth movie adorably thought it would be the last one.

---
3. House of the Dead
If we didn't know Uwe Boll better, we'd think this was intentionally funny. But we do, so he probably thought this was really cool.

---
2. Manos: The Hands of Fate
The Mystery Science Theater 3000 gang made this one infamous, and that's usually a sign that it belongs on a list like this.

---
1. Troll 2
This sequel that has nothing to do with the original and features no trolls at all is so ridiculously insane that it's impossible to discern the intent of the filmmakers.