10 Things You Didn't Know About John Hughes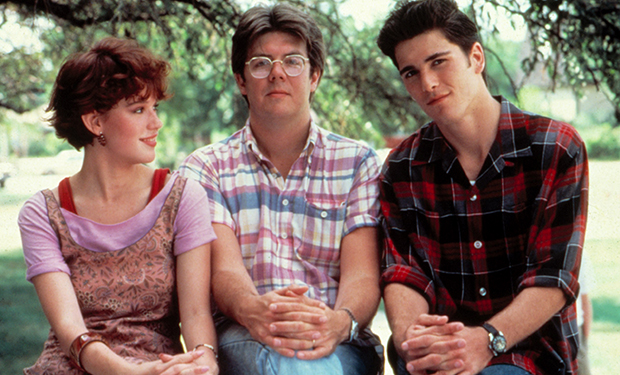 Posted by K Thor Jensen on
Few directors get the opportunity to define a genre like John Hughes did with the teen comedy. Throughout the 1980s, he laid the groundwork for the modern high school flick, and in celebration we'll share some interesting factoids about his life and movies.
10. He Wrote Under a Pseudonym
Hughes was insanely prolific in comparison to most A-level screenwriters, so to keep from saturating the market he used the name "Edmond Dantes" for his weaker material like the Beethoven movies.

(Source)
---
9. His First Screenplay Was a Jaws Parody
In the 1970s, the way into the comedy world was through the pages of the National Lampoon. Publisher Matty Simmons gave Hughes his first Hollywood break by hiring him to write Jaws 3, People 0, an aborted spoof of the killer shark films.

(Source)
---
8. The Breakfast Club Confessions Were Improvised
John Hughes showed a great deal of trust in his teenage actors, and one of the most affecting bits in The Breakfast Club – where the kids tell each other why they're in detention – was completely improvised by each actor.

(Source)
7. Hughes Wrote The Breakfast Club in Two Days
Hughes was a notoriously fast writer, leaving behind dozens of unproduced movies after his death. During his productive peak, he was known to knock out a whole screenplay in a weekend.

(Source)
---
6. He Put Cue Cards on John Candy's Head
During the sequence in Uncle Buck where Macaulay Culkin interrogates Buck, the script's dialogue was written on index cards and placed on John Candy's head so Culkin could get his lines off quickly without having to worry about memorization.

(Source)
5. He Almost Made a Live-Action Peanuts Movie
In 1992, Warner Brothers bought the film rights to classic comic strip Peanuts for Hughes to turn into a live-action flick, but after Dennis The Menace bombed the project was shelved.

(Source)
---
4. He Made Robert Downey Jr. So Mad He Pooped in a Trailer
Weird Science was one of Downey's first breakthrough roles, but working with Hughes was so aggravating that the young actor took a dump on the floor of co-star Kelly LeBrock's trailer out of spite.

(Source)
---
3. The License Plates in Sixteen Candles Have Hidden Messages
Jake's car has a plate reading 21850 – 2/18/1950 is John Hughes's birthday. Samantha's grandparents have a car that is licensed V58, a reference to "Vacation '58," the Hughes short story that inspired National Lampoon's Vacation.

(Source)
---
2. Hughes Fired a Guy Over Pizza
A Spy article published in 1993 shared numerous stories about Hughes's difficulty to work with, claiming that he fired a prop supervisor on Curly Sue because, after innumerable takes of a pizza eating scene, he ran out of cheese pizza and had to substitute sausage.

(Source)
---
1. Many of His Movies Were Supposed to Have Sequels
The wave of 80s nostalgia that peaked in the mid-2000s spawned talk of sequels to The Breakfast Club and Ferris Bueller's Day Off that would revisit the characters at later points in their lives, but they never materialized.

(Source)
---
Take a trip to Shermer, IL this Saturday with Sixteen Candles, The Breakfast Club, Uncle Buck and Weird Science airing all day on IFC.

video player loading
.
.
.