15 Things You Probably Didn't Know About Army of Darkness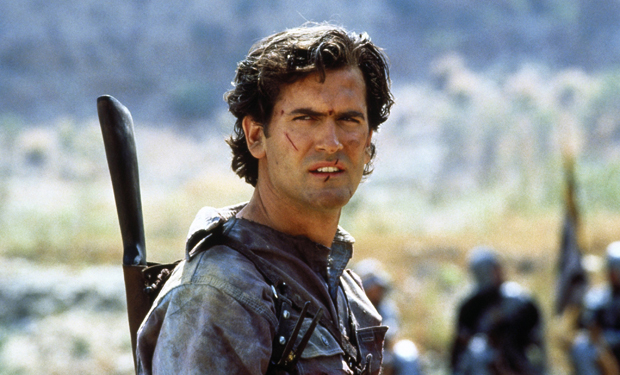 Posted by IFC on
9. Raimi's brother wore a lot of hats.
Ted Raimi—who makes cameos in all of his brother's films—appears as three different background characters in Army of Darkness. He is first seen as a sympathetic villager, then as a dying soldier during the final battle, and, finally, as an S-Mart employee in the last scene.

---
10. Raimi had to fight for an R-rating.
In keeping with the gory first two films in the series, Army of Darkness received an NC-17 rating from the MPAA. It was subsequently bumped down to an R rating after the filmmakers pointed out that the ostensible gore in the film was happening to skeletons.
---
11. Playing Evil Ash was tough for Campbell.
It took makeup artists three hours to get Campbell ready for shooting.

---
12. Sam Raimi storyboarded every single shot in the movie himself.
About 25 shots in the final battle are taken from storyboards originally used in the 1948 Victor Fleming film Joan of Arc, which were brought to Raimi's attention by visual effects supervisor William Mesa. Mesa got them from a friend, who got them from Fleming himself.
---
13. There's an Easter egg for Trekkies.
Star Trek fans will recognize the location where Ash learns the "Klaatu barada nikto" incantation. The scene was shot at the iconic Vasquez Rocks in Agua Dulce, California, also where the famous "Arena" episode from Star Trek was shot. The movie also shot in the Bronson Canyon area of Griffith Park in Los Angeles that served as the Batcave for 1960s Batman television show.

---
14. The studio changed the ending.
The original conclusion of the film—which Universal Studios deemed too negative—featured Ash taking too much potion to get back to the present day and waking up in a future, post-apocalyptic London. The ending can be seen on subsequent director's cuts of home video versions of Army of Darkness.

---
15. There may still be a sequel.
A sequel to Army of Darkness has been rumored, confirmed, and denied for over twenty years. As of July 2014, Campbell is slated to reprise his role as Ash in an Evil Dead TV series, which will continue the story from Army of Darkness.