10 Things You Probably Didn't Know About Sylvester Stallone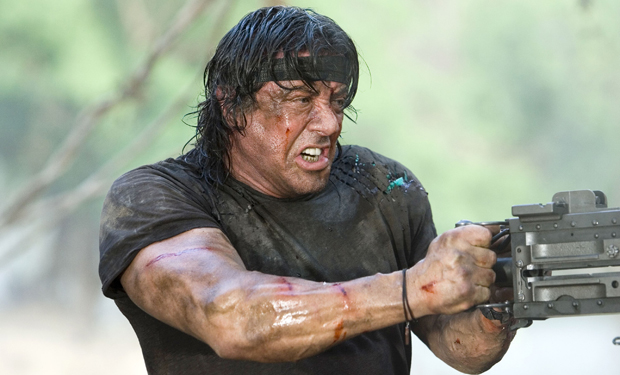 Posted by Andy Hunsaker on
Well, okay, let's be honest – if you're a movie nerd, you might actually know some of these things about the man they call Sly. So let's say here are 10 facts about Sylvester Stallone of which the casual observer may not be cognizant.
10. He Did Porn
Back in 1970, a broke and desperate Michael Sylvester Gardenzio Stallone did a soft-core porn flick called The Party at Kitty and Stud's. Once he hit big with Rocky, it was naturally re-released under the name The Italian Stallion.

---
9. His Brother Frank Rocks
Before he was Norm MacDonald's favorite punchline on SNL's Weekend Update, Frank Stallone had this quintessentially '80s hit on the soundtrack of the ill-advised Saturday Night Fever sequel Staying Alive – which Sly directed. He was also one of the Mario Brothers in Hudson Hawk.

---
8. He Tried to Mug Woody Allen
Not in real life, of course, but in Allen's zany 1971 movie Bananas, he became upset when his attempts to beat up old ladies were interrupted.

7. He Robbed Jack Lemmon
Or so we thought, as seen in this scene from The Prisoner of Second Avenue.

---
6. He Raced Death in the Year 2000
Or, rather, he was in Roger Corman's Death Race 2000 in 1975 as Machine Gun Joe, who had this gem of a line.

5. He Was a Pro Wrestling Manager
In Paradise Alley, Stallone's directorial debut, he tried to crack the wrestling business. The movie co-starred Armand Assante – and the two would later reunite to play clones of each other in Judge Dredd.

---
4. He Was Drinkenstein
He co-wrote and starred with Dolly Parton as a New York cabbie turned country singer in Rhinestone, and, apparently, Budweiser created a monster.

---
3. He Had Virtual Sex with Sandra Bullock
Demolition Man is a gift of a film fraught with many wondrous things, predicting a world where cursing is outlawed by the year 2032, less than 20 years from now. Also against the law? The nightmare of "fluid transfers." Incidentally, it also posited that there would be a time in the 1990s when people would refer to said fluid transfers as "the hunka chunka."

---
2. He Was Marisa Tomei's Dad
In John Landis' screwball comedy Oscar, he was a gangster named Snaps Provolone who becomes determined to find his promiscuous daughter a proper husband.

---
1. Dolph Lundgren Hospitalized Him
Let Sly tell you himself about his really bad idea on the set of Rocky IV that led to grievous personal injury and five days of intensive care.