Comedians React to Joan Rivers' Passing on Twitter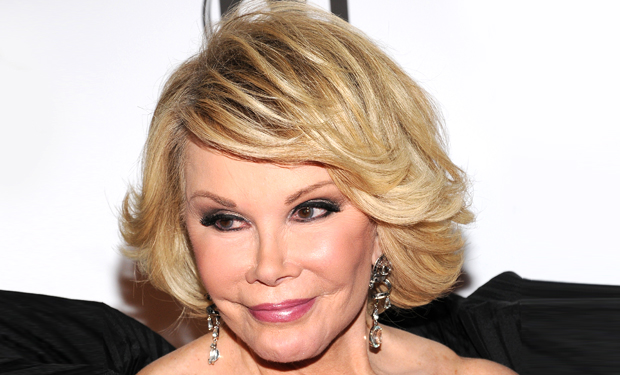 Posted by Cher Martinetti on
Legendary funny woman Joan Rivers passed away today at 81 years old. The trailblazing comedian is remembered for her self-deprecating and often raunchy brand of humor, one that paved the way for generations of comics to follow. As news spread after daughter Melissa Rivers released a statement about her mother's passing, the comedy world took to social media to share their condolences.
we lost a great one in @Joan_Rivers – she was funny all the way to the end

— Jimmy Kimmel (@jimmykimmel) September 4, 2014
So sad to have lost Joan Rivers.She may have been 81 but was still in her prime with a mouth that wouldn't quit. The silence is deafening

— Lewis Black (@TheLewisBlack) September 4, 2014
Joan Rivers had a library-style filing cabinet containing 1000s of jokes that she wrote. Hilarity + hard work = genius.

— Neal Brennan (@nealbrennan) September 4, 2014
Here's to @Joan_Rivers and an incredible life and legacy. I am sorry not to have known her, but I know many who did. Thinking of them all.

— John Hodgman (@hodgman) September 4, 2014
Very sad news about Joan Rivers. Such a prolific, brilliant comic. She was more fearless than any of us.

— Jim Norton (@JimNorton) September 4, 2014
I just heard the unfortunate news about "Joan Rivers" ….I'm beyond sad about it. My prayers go out to her family and friends.

— Kevin Hart (@KevinHart4real) September 4, 2014
RIP Joan Rivers. A force of nature.

— Seth Meyers (@sethmeyers) September 4, 2014
RIP Joan Rivers. Fearless & amazing. Here's a clip from her great documentary where she DESTROYS a heckler: http://t.co/mO0u25Y6HN

— Aziz Ansari (@azizansari) September 4, 2014
First Robin. Now Joan. The world just became a less funny place. RIP Joan Rivers.

— Gilbert Gottfried (@RealGilbert) September 4, 2014
We'll miss you, Joan.