7 Characters We Want to See in Clerks 3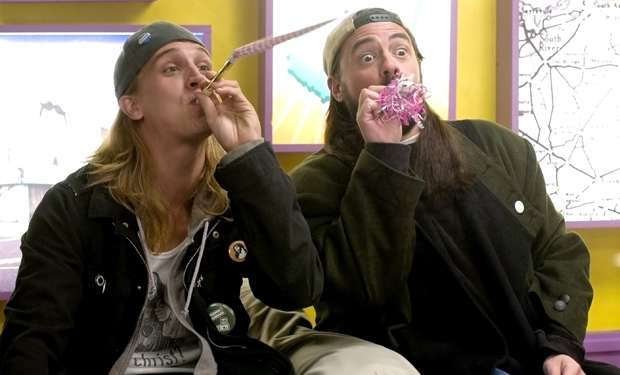 Posted by Nick Nadel on
Good news, Quick-Stop fans! Kevin Smith recently announced that thanks to the success of his Twitter-sourced horror flick Tusk,  Clerks 3 is now a-go. While it's safe to say that Dante, Randal, and Jay and Silent Bob will be back (along with Rosario Dawson's character from Clerks 2), there are a few more characters from Kevin Smith's debut film that we'd like to see return for the third installment. (Clips below are NSFW, of course.)
7. Olaf the Russian Metalhead
Why hasn't Silent Bob's Russian cousin scored a solo movie? Kevin Smith can make a movie about turning the Mac guy into a half human/half walrus hybrid but he can't give us more "Berserker"? Let's hope we'll get an update on Olaf's metal career in Clerks 3.

---
6. Pringles Can Guy
So many lingering questions here. Does this guy still get his hands stuck in Pringles cans? After all, Pringles cans haven't really changed all that much in the 20 years since Clerks came out. So it stands to reason that if there's a Pringles can in Clerks 3, Pringles Can Guy will get his hand stuck in it.

5. Chewlies Gum Rep
The Chewlies gum rep delivers a memorable anti-cigarette rant where he equates tobacco companies with the Nazi party. Perhaps he took his "cancer merchant" routine all the way to Washington? Fill us in, Clerks 3.

---
4. Egg Man
Fun fact: the Quick-Stop customer looking for the perfect carton of eggs was played by Walt Flanagan of Comic Book Men fame. Will he return for Clerks 3 and complete his epic search?