5 Characters We Hope to See When Bill Hader Hosts SNL on Oct. 11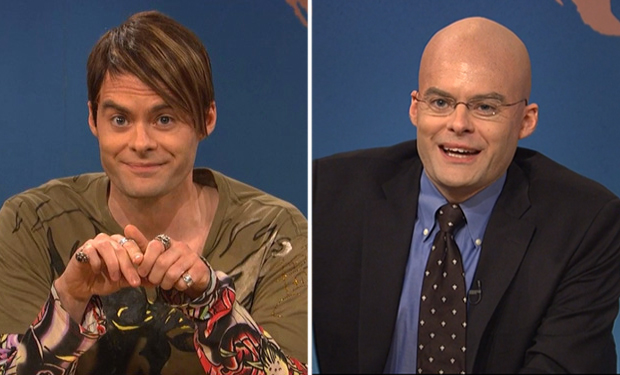 Posted by Cher Martinetti on
The upcoming season of SNL is looking promising, thanks in no small part to the talent they've tapped to host so far. Bill Hader is slated to return to 30 Rock to host on October 11th. To say we're excited is an understatement; our love for Bill runs deep and we can't wait to see who, if any, of his famous characters he brings out for the occasion.
Here are 5 of Hader's hilarious portrayals that we hope to see.
5. James Carville
There's a LOT going on in politics right now, and who better to share his expert opinion on Washington than The Ragin' Cajun, James Carville? No one, that's who.

---
4. Vincent Price
Considering it's so close to Halloween, we think this would be an opportune moment to bring back Vincent Price.

---
3. Game Show Host
Hader was often the go-to for a faux game show host. It's not often he's playing the straight man, and when he does, he's always trying not to break and start laughing.

---
2. Stefon
We can all but guarantee the fan favorite will make a reappearance on "Weekend Update," but the question is how will he take to someone other than Seth at the desk?

---
1. The President of Hollywood
OK, this wasn't an SNL character, but The President of Hollywood is one of the funniest things we've ever seen Hader do. A faux roast on SNL with his showing up would be epic.