7 Things You Didn't Know About Death Proof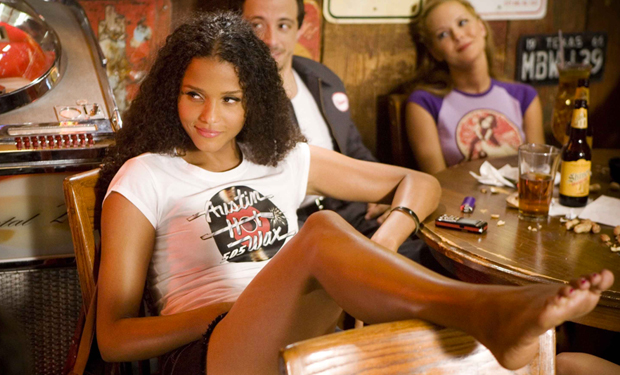 Posted by K Thor Jensen on
Quentin Tarantino's Death Proof is one of his purest movies – a balls-out, gritty, 70s-style exploitation flick. Here are 7 things that you might not pick up on your first viewing.
7. Stuntman Mike's License Plates Are From Famous Car Chases
The license plates on both of Stuntman Mike's cars are homages to two famous car chase vehicles – JJZ-109 was Steve McQueen's plate number in Bullitt and 983-DAN was on the Dodge Charger in Dirty Mary Crazy Larry. (Warning: NSFW)

(Source)
---
6. It's The Only Tarantino Movie That Runs in Chronological Order
Quentin Tarantino is notorious for monkeying with the timeline of his films, but the down-low style of Death Proof meant he had to skip the flashbacks and other such trickery.

(Source)
---
5. The Police Are Father and Son
The two police officers who are in the hospital questioning Stuntman Mike are played by father and son actors Michael and James Parks. The pair also play cops in Kill Bill and the two From Dusk Till Dawn movies.

(Source)
---
4. There's a Big Trouble in Little China Reference
If you look closely at the wall of the bar during the film's opening sequence, you'll see a tank top with a samurai and a rising sun on it. That's the same tank top Kurt Russell's character wore in the John Carpenter classic.

Courtesy Dimension Films/20th Century Fox
(Source)
3. The Dodge Challenger Isn't Factory Standard
The 1970 Dodge Challenger driven by the girls in the film's last car chase has window frames on the doors – but the '70 model was a hardtop and didn't have frames. They were welded in so Zoe Bell could do the "ship's mast" stunt.

(Source)
---
2. Ving Rhames Was Considered for Stuntman Mike
Kurt Russell does an amazing job as the twisted ex-stuntman Mike who gets off on running women off the road, but the part was previously offered to both Mickey Rourke and Ving Rhames.

(Source)
---
1. The Jukebox Belongs to Quentin Tarantino
Music is a huge part of all of QT's films, so let's close with a music-related trivia bit. The jukebox in the Texas Chili Parlor is Quentin Tarantino's personal property, containing his personal 45 collection, and all of the song titles were hand-written by the director.

(Source)