15 Things You May Not Have Known About Conan the Barbarian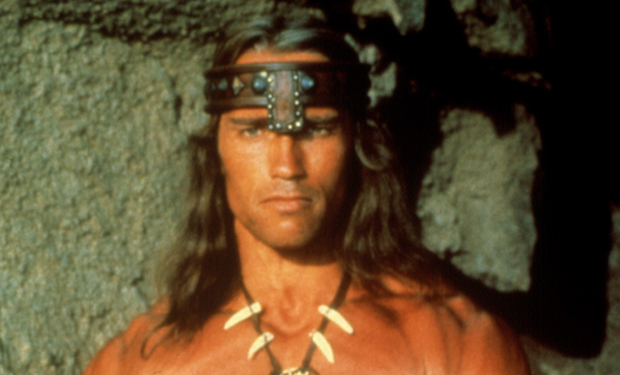 Posted by IFC on
You already know Arnold looks like a million bucks in Conan, but these facts may help you appreciate his sword-wielding majesty in a new light.
1. The Film's Opening Nietzsche Epigraph Is Misquoted
The original quote is "What does not destroy me, makes me stronger." The movie's quote is actually, weirdly enough, a paraphrase of Nietzsche that Watergate break-in mastermind G. Gordon Liddy made during his autobiography's book tour in 1980.
---
2. Conan the Barbarian Is Co-Written by Oliver Stone, Who Himself Was Originally Slated to Co-Direct
Other directors on the short list for the job—before it was given to John Milius—were John Frankenheimer, Sam Peckinpah, Alan Parker, and Ridley Scott.
---
3. Milius Originally Knew Nothing About the Conan the Barbarian Character
He signed on to direct because he always wanted to make a Viking movie.
---
4. Milius' Original Storyline for Conan Was a Trilogy Involving a Sword Metaphor
The first was about the strength of the sword, the second was about how to wield the sword, and the third was about the consequences the sword wrought. To date, Milius has only been involved with one Conan movie. A sequel, Conan the Destroyer, was released in 1984 and a reboot, also called Conan the Barbarian, came out in 2011.
---
5. Two Action Stars Were Asked to Star
Charles Bronson and Sylvester Stallone both turned down the Conan role.
---
6. Producers Met Arnie When He Was Doing Press for the Film Pumping Iron
They thought he was perfect for the look of the barbarian.

---
7. Thulsa Doom Was Originally a Character in "Kull the Conqueror"
Which was another pulp fiction series from Conan creator Robert E. Howard. Milius wanted Jones' character to resemble the last member of an otherworldly race that had all but died out.
---
8. The Name of Conan's Female Companion Valeria Is Never Said During the Film
Bergman was cast because director John Milius saw her as a dancer in director Bob Fosse's film All That Jazz, and Milius thought she could give the rough and tumble Valeria a ballerina's sense of movement.