10 Movies Where Death Comes From Below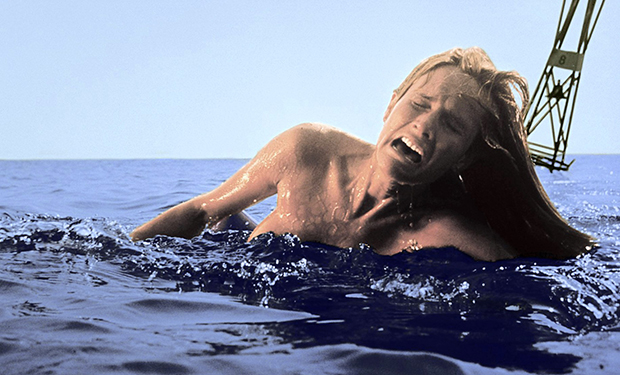 Posted by K Thor Jensen on
"Watch the skies," they say, but the seas are just as dangerous. In this feature, we'll spotlight ten flicks where bad things happen feet-first.
10. Anaconda
J-Lo heads to the South American jungles and gets into a scrap with an enormous carnivorous snake that loves to squeeze.

---
9. Leviathan
Mutated crewmembers aboard an undersea mining platform are the (pretty gross) predators in this 1989 flick.

---
8. Lake Placid
A 30 foot long crocodile beneath the surface of a lake in Maine goes on a rampage after cops arrest the old woman who had been feeding it.

---
7. Deep Rising
This seaboard horror flick concerns a luxury cruise ship that gets massacred by giant evolved sea worms that suck all of the fluid out of their victims and spit out the skeletons.

---
6. Deep Blue Sea
What's scarier than sharks? Sharks that have been genetically modified to have genius-level intelligence.

5. C.H.U.D.
It stands for Cannibalistic Humanoid Underground Dweller, and the titular creatures hang out below the streets in the sewer tunnels preying on victims.

---
4. Piranha 3D
An earthquake cracks the floor of a lake and unleashes a school of flesh-eating fish on unsuspecting vacationgoers.

---
3. Zombie Lake
Nazi soldiers killed during World War II have their bodies dumped into a lake in a small French town, only to rise and get revenge.

---
2. The Host
This Korean enviro-horror flick features a genetically mutated monster in the Han River that was created by humans dumping pollution.

---
1. Jaws
Obviously the king of the "death from below" movie is Steven Spielberg's 1975 Jaws, which cemented the status of the Great White Shark as the apex predator of the sea.