10 Actors Who Can't Keep Their Shirts On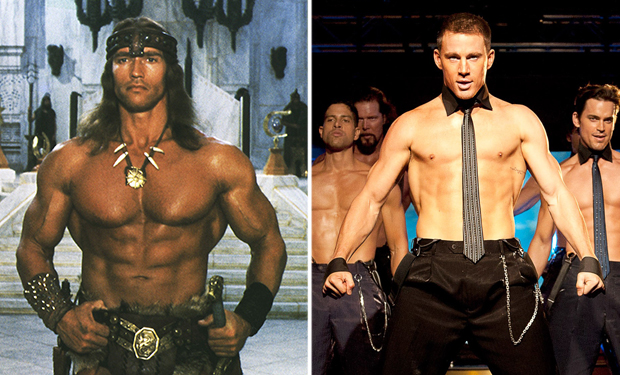 Posted by K Thor Jensen on
Sure, if we had personal trainers we'd be topless all the time, but there's still something called decency. These ten stars just can't seem to stay clothed in movies.
10. Hugh Jackman
When you've played Wolverine in approximately fifty-six movies you're bound to get stripped to the waist a time or two.

---
9. Dolph Lundgren
Swedish muscleman Dolph Lundgren went shirtless a lot as Ivan Drago, but it was his starring role as He-Man in Masters of the Universe that cemented him on the list.

---
8. Mark Wahlberg
Marky Mark first honed his shirtless skills in videos with the Funky Bunch, and since then he's exposed his ripped torso in flicks like Pain & Gain.

---
7. Patrick Swayze
Swayze stripped to the waist in Dirty Dancing and continued to ditch the shirt in Point Break and many other cinematic classics.

---
6. Arnold Schwarzenegger
Before the Governator started to sag a little bit, he oiled himself up to swing a massive sword around as Conan and flex muscles in Pumping Iron.