Marc Maron, Conan and Other Comedians Pay Tribute to Robin Williams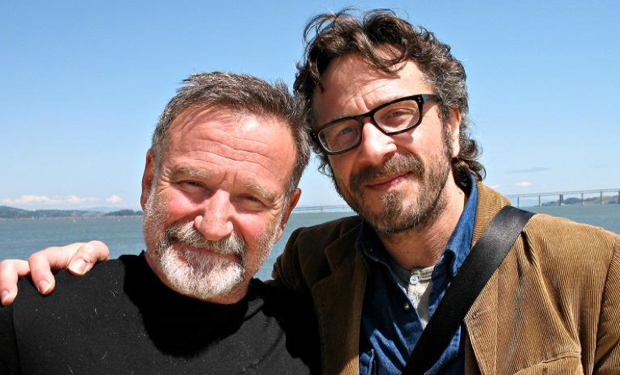 Posted by Vincent Genovese on
Some grew up with him as Mork–a silver-gloved alien from the planet Ork ("Nanu nanu!"). A later generation knew him as a genie, or Peter Pan. No matter how you were introduced to Robin Williams–the comedic legend who passed away this past Monday–it's likely he's made you laugh, hard, countless times in his career. His loss is a huge one, one big enough to garner a response from the president, so it's no surprise the comedy world is paying tribute. Here are a few examples.
Conan O'Brien, along with Andy Richter and guest Will Arnett, gave an on-air salute:

---
Marc Maron reposted his hour-long WTF interview with Robin.
I remember Robin Williams with the repost of our conversation from April 26 2010 on @WTFpod. RIP http://t.co/8jUdIzqgqM

— marc maron (@marcmaron) August 12, 2014
---
Others took to Twitter to share their thoughts:
Isn't it mind blowing how many times and ways Robin Williams touched your life with his work? For so long. What a gift he gave.

— Judd Apatow (@JuddApatow) August 12, 2014
Took a walk in NYC this morning under a tree lined street. Perfect breeze. Looked like it was raining flowers. I know that was you Robin.

— jimmy fallon (@jimmyfallon) August 12, 2014
This is a sad day. My thoughts about it for @ThisIsFusion: http://t.co/7Osq4ze74J Rest in peace, Robin Williams.

— Paul F. Tompkins (@PFTompkins) August 12, 2014
I had the pleasure of doing improv a few times with Robin Williams. One of the sweetest people I ever met. RIP to one of my childhood heroes

— Chris Gethard (@ChrisGethard) August 11, 2014
Norm Macdonald gave a multi-tweet rundown of his first meeting with Robin.
---
As a reminder of Robin's genius, here's his first appearance on The Tonight Show way back in '81: