15 Things You Probably Didn't Know About The Marine 3: Homefront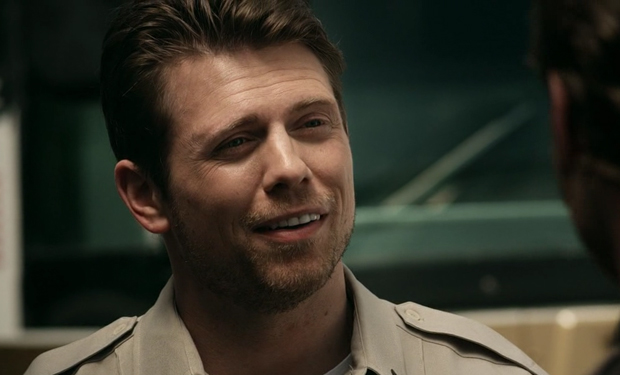 Posted by IFC on
Even if you missed the first two installments of The Marine, the third film is great fun for any action buff who knows their stuff.
1. The star knew how to act violent.
Mike Mizanin is actually a professional wrestler for the WWE who goes by the stage name "The Miz." The Marine 3 is his first movie.

---
2. But the Miz was comfortable in front of the camera.
Before the Miz was a wrestler he appeared as a cast member on the tenth season of the long-running reality show The Real World.

---
3. The Rock did some coaching.
Before taking on his first starring film role, Mizanin told ESPN that he texted former WWE superstar Dwayne "The Rock" Johnson for advice. Johnson allegedly told Mizanin to "act natural, have fun, enjoy the scenes, and enjoy yourself."
---
4. The Miz got the role in a disqualification victory.
WWE Superstar Randy Orton was originally slated to star in The Marine 3, but he was dropped from the movie because he was dishonorably discharged from the actual U.S. Marine Corps in 1999.

---
5. Filming was quick.
Production on The Marine 3 lasted only 20 days. Conveniently, half of the shooting schedule took place on the partially sunken ferry that functions as the villain's hideout.

---
6. The ferry had a real history.
The ferry is called The Queen of Sidney, which carried passengers between Vancouver and Vancouver Island when it launched in 1959. It was decommissioned and sold in 2001, and has since sat abandoned on the Fraser River in nearby Mission, British Columbia. In 2012, the vessel was deemed an environmental risk by the British Columbia Ministry of Environment and was seized by the government in order to secure the surrounding natural habitat and the vessel's safety.
---
7. The ferry knows how to play supporting roles for wrestlers.
It had previously appeared in the "Stone Cold" Steve Austin film Damage.

---
8. Rain wasn't on the film's side.
The ferry location on the Fraser River flooded so often that the production used a cargo truck originally meant to appear in the movie to transport the cast and crew over flooded areas to get to the set.