15 Things You Probably Didn't Know About Conan the Destroyer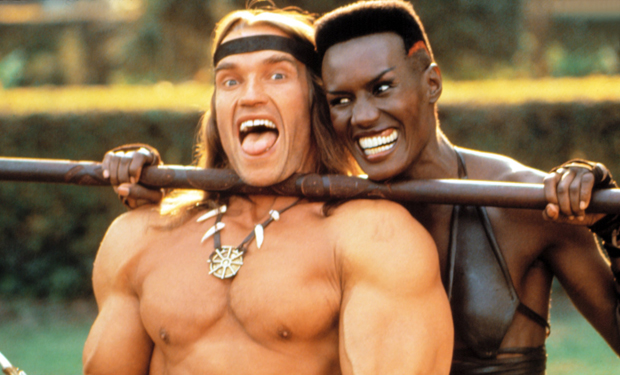 Posted by IFC on
Here's everything you need to know to fully enjoy Arnold and his sword's triumphant return.
1. The Director Inspired His Way
Director John Milius drew major inspiration for the first Conan movie, Conan the Barbarian, from 1958's The Vikings. When Milius was unavailable to direct the Conan sequel, Conan the Destroyer, producer Dino De Laurentiis went to the original source by hiring The Vikings director Richard Fleischer.

---
2. The Script Required Some Tinkering
The film was originally titled "Conan, King of Thieves" from the initial screenplay by Roy Thomas and Gerry Conway. The script was then heavily rewritten by screenwriter Stanley Mann and retitled Conan the Destroyer. Thomas and Conway received a "Story By" credit on the finished film.
---
3. But the Original Script Lived On
Because the finished product was so radically changed from their screenplay, Thomas and Conway went on to create a graphic novel based on their story idea called "Conan the Barbarian: The Horn of Azoth." To distance themselves from what the movie, they changed the names of most of the characters: Jehnna was changed to "Natari," Bombaata was changed to "Strabo," Toth-Amon was changed to "Rammon," Zula was changed to "Shumballa," and Dagoth became "Azoth."
---
4. The Film Had a Real bond with Dune
The film was shot in Mexico City as a cost cutting measure. Conan the Destroyer used the same crew and some of the same locations as another Dino De Laurentiis production, director David Lynch's 1984 adaptation of Dune, which was shooting in Mexico at the same time.

---
5. The Princess Was a Rookie
Princess Jehnna was actress Olivia d'Abo's first acting role. She was 13 years old when filming began.

---
6. Jehnna's Bodyguard Knew How to Score
Basketball fans may recognize Jehnna's bodyguard, Bombaata, as basketball legend Wilt Chamberlain. Conan the Destroyer was Chamberlain's only credited onscreen role, although he made an uncredited appearance as himself in 1999's Any Given Sunday.
---
7. The Film Helped Make Schwarzenegger an American
Arnold Schwarzenegger gained U.S. citizenship during the filming of Conan the Destroyer. He retains dual Austrian and U.S. citizenship to this day.

---
8. Sven Ole-Thorsen Appeared in Both Conan Movies
But he played different characters. He played Thorgrim, Thulsa Doom's evil henchman, in Conan the Barbarian, and plays Togra, the member of the Queen's guard who tries to kidnap princess Jehnna, in Conan the Destroyer.