10 Least Subtle Wrestling Gimmicks of All Time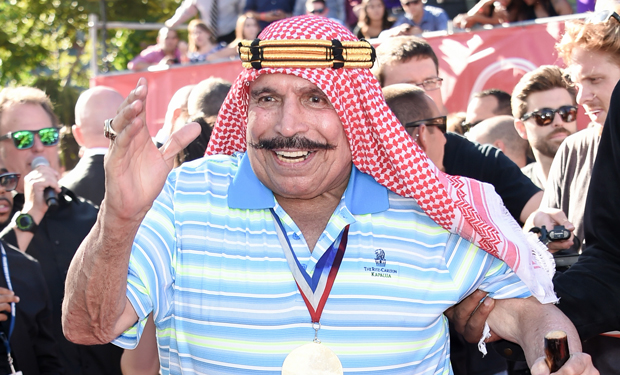 Posted by Andy Hunsaker on
If you're a WWE fan, you'll have noticed that The Miz, star of The Marine sequels, has been playing the part of an egotistical movie star, even going so far as make "not in the face!" part of his schtick, since he refers to that as "the moneymaker." Believe it or not, that's one of the more subtle wrestling gimmicks that have been used in the industry. Here's proof.
10. "The Million Dollar Man" Ted DiBiase
You may have met some obnoxious rich people in your time, but even they rarely actually wear tuxedos covered in dollar signs.

---
9. The Iron Shiek
Exaggerating one's ethnicity (or even assumed ethnicity) to gimmick proportions is one of the more questionable traditions in wrestling. In summary: The Iron Shiek is from Iran, you should boo him.

---
8. The Bolsheviks
Nikolai Volkoff and Boris Zhukov are from Soviet Russia. You should boo them, too. Or recruit the legendary Steve Allen to make fun of them.

---
7. Rusev & Lana
These two are from the current Russia, and they love Vladimir Putin. The old gimmick has come back around for an encore, thanks to current events.

6. The Red Rooster
For some reason, they thought it would be a good idea to make Terry Taylor cluck like a chicken.

5. Aldo Montoya, The Portuguese Man o' War
Aldo later became known as "Justin Credible." You can decide for yourself which name is worse.

---
4. Andre the Giant
Andre didn't even get to have a last name. He was just a large, large man.

---
3. The F.B.I.
No, these weren't G-Men. These were the Full Blooded Italians. Of course they were.

---
2. Hillbilly Jim
The name says it all, and the fact that he hung around with his big Uncle Elmer and little Cousin Junior – all in overalls – may say a little bit more.

---
1. The Ultimate Warrior
There was absolutely nothing subtle about a guy covered in rainbow tassels and facepaint who sprinted to the ring and screamed a lot of fascinatingly incoherent monologues about lawn mowers.