15 Things You May Not Have Known About X2: X-Men United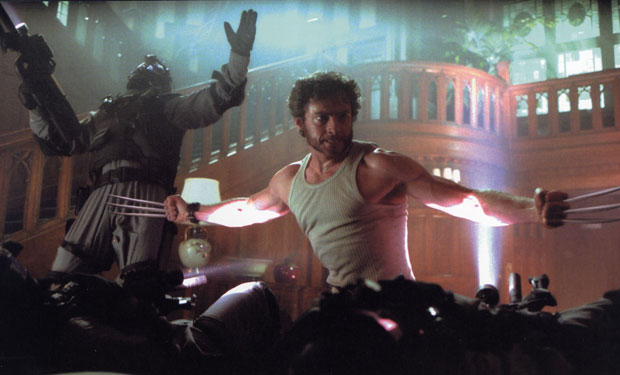 Posted by IFC on
Nothing can be as shocking as seeing Magneto and the X-Men teaming up, but these hidden facets of X2 are worth a closer look.
1. Look Closely at the 20th Century Fox Logo at the Beginning of the Film
As it fades to black, director Bryan Singer had the "X" in "Fox" fade out slower as a little tribute to the X-Men. There are also dozens of other hidden Xs throughout the movie: the windows during the museum scene; the trim over the door in the Oval Office set; and within much of the characters' wardrobe.

---
2. The Plot of X2 Was Loosely Adapted from the Marvel Graphic Novel X-Men: God Loves, Man Kills
Which also features Stryker as the villain, Magneto teaming up with the X-Men, and Stryker's plot to kill all mutants by using an alternate Cerebro.

---
3. Singer Hired Many of the New Cast Members Specifically Because of Their Previous Work
Aaron Stanford (who plays Pyro) was hired because of his role in the small indie film Tadpole. Brian Cox (who plays William Stryker) got his part because Singer remembered him from the 1986 film Manhunter, where the actor played the first incarnation of Hannibal Lecter. Alan Cumming won Nightcrawler because Singer loved him as the Emcee in the Broadway revival of the musical Cabaret.

---
4. The Film Was Primarily Shot on Sets at Vancouver Film Studios
In the largest film production facility outside of Los Angeles. but exteriors of Stryker's wintery base were shot at Barrier Lake in the Canadian Rockies in the province of Alberta. The production had to create over 40 tons of snow to cover the area because the unusually warm weather melted the natural snow.
---
5. The Massive Cerebro Set Was Built in Halves
The walls could be shifted around to suggest a spherical shape depending on the angle of shots needed.

---
6. The Museum in the Beginning of the Film Was Actually a Convention Center in Vancouver
The crew outfitted the space with dinosaur bones rented from real museums and private collectors by production designer Guy Dyas.
---
7. Some of the Extras Were Professionals at Standing Still
When Professor X stops time, the extras near the main actors were mimes.
---
8. Others Just Had to Try Their Best
In all other wide shots, Singer just had the extras stop in place.