15 Things You May Not Have Known About Beerfest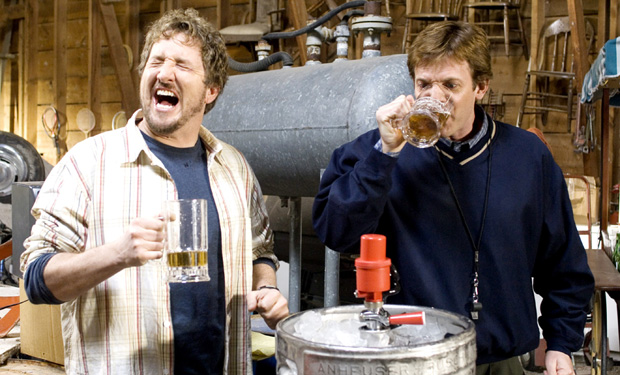 Posted by IFC on
Here's everything you need to know about the movie that taught us drinking beer isn't just something you do with friends – it's something you dominate.
1. An Epic Amount of Drinking Games Were Played in the Movie
In order, the drinking games played in Beerfest are: Volume Chug, Beer Pong, Trick Quarters, Long Pour, Mexican, Volume Funnel, Bat Spin, and Depth Charge. The championship round includes Distance Quarters, Monkey Chug, Beirut, Beer Pong Round 2, Thumper, Turbo Quarters, and the Line Chug ending with "Das Boot."

---
2. The Actors Actually Did Drink Beer On-set
But it was non-alcoholic O'Doul's.

---
3. Lots of Diet Coke, Too
When scenes called for darker beers, the filmmakers simply added Diet Coke.
---
4. No Passports Were Needed
Although set in Colorado and Germany, Beerfest was filmed in Albuquerque.
---
5. Broken Lizard Has a Frat History
The brilliant minds behind Beerfest, the comedy troupe Broken Lizard, were all fraternity brothers of Beta Theta Pi at Colgate University (though the troupe's original name was "Charred Goosebeak," a troupe which still exists at Colgate to this day). In addition to Beerfest, the troupe has made four movies: Puddle Cruiser, Super Troopers, Club Dread, and The Slammin' Salmon. The film adaptation of The Dukes of Hazzard is an unofficial Broken Lizard movie; it features all five members and was directed by member Jay Chandrasekhar (who also directed Beerfest).

---
6. There Are Some Cameos to Watch Out For
When Jan Wolfhouse (Paul Soter) and Todd Wolfhouse (Eric Stolhanske) are being led to Beerfest, the remaining members of Broken Lizard make cameos as the weird group of people bothering them before they enter. Kevin Heffernan is the old woman, Jay Chandrasekhar is the blind sheik, and Steve Lemme is the creepy dancing guy.
---
7. Bloodsport Was an Inspiration
Chandrasekhar intentionally made Jan and Todd's shadowy journey down to Beerfest look similar to scenes from one of the comedy troupe's favorite movies—the Jean Claude Van Damme classic, Bloodsport.

---
8. The Stadium Used to House Cars
The underground stadium where the Beerfest games take place was actually shot in an abandoned car dealership's warehouse.