This Week: Maron Gets Sex Buddy, Nick Offerman Visits CBB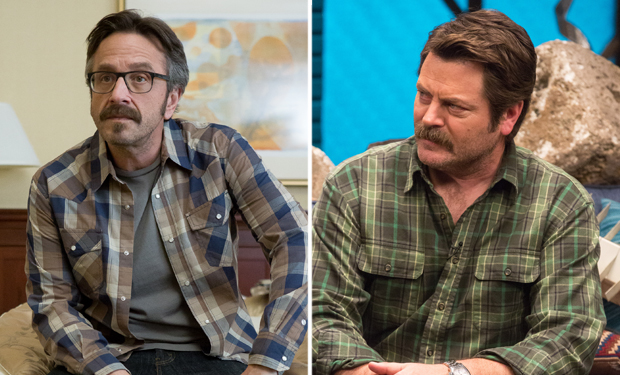 Posted by Melissa Locker on
On this week's Maron, Marc tries to start a no-strings sexual relationship with a sex buddy from years ago. Now that Marc is newly single, it's no surprise that he wants something with less emotional attachment, but he soon learns that it's easier said than done.
Over on Comedy Bang! Bang!, Nick Offerman transfixes Scott with his mustache, while a mysterious woman gives tips on how to be a friendly neighbor and a major disaster forces Scott and Reggie to conserve air in hopes of a last-minute rescue. Be sure to watch for guest appearances by Kate McKinnon, Kyle Mooney, Michael Showalter, Maria Thayer and Richard Riehle.
Want the latest news on Maron? Like the show on Facebook and follow us on Twitter@MaronIFC For the latest on Comedy Bang! Bang!, like them on Facebook and follow them on Twitter@comedybangbang and use the hashtag #cbbtv.
Maron airs on IFC on Thursdays at 10p followed by Comedy Bang! Bang! at 10:30p.