What the Critics Are Saying About Maron and CBB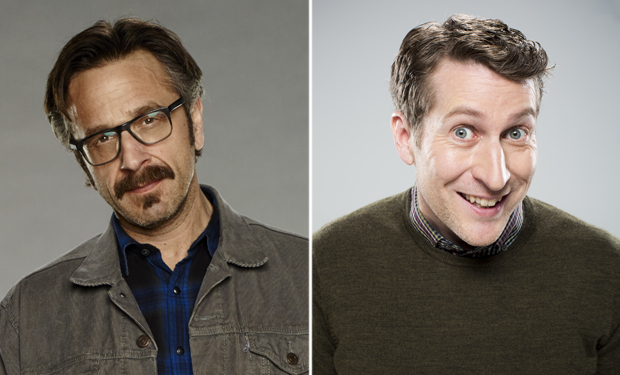 Posted by Melissa Locker on
Before you tune into the season premieres of both Maron and Comedy Bang! Bang!, read what the critics are saying about our two returning shows:
Maron
"The trick in this comedy of solipsism is to strike the right balance between miserableness and laughs, and Maron is impressive for how much angst and complaint it can pile up without collapsing," said the New York Times adding that it's "consistently well written (or improvised) and smartly cast."
"The series is engaging in its passive-aggressive humanism," said Slant Magazine.

The Star Tribune said the show "offers great insight into the neuroses of the creative mind".
"The show is a must-watch for fans of Marc Maron," said Flavorwire.
The CV Independent said, "Fictionalized "Marc Maron" rings truer—and often funnier—than "Louis C.K." or "Larry David.""
---
Comedy Bang! Bang!
"The laughs are real on fake talk show Comedy Bang! Bang!" said the LA Times.
"We really like both exclamation points and onomatopoeia," said the AV Club.
"It may look like a talk show, and sound like a talk show, but don't let that fool you, IFC's Comedy Bang! Bang! is a talk show with real guests, talking about sometimes imaginary things," said The Daily Beast.
Den of Geek said, "In the sea of late night options, Comedy Bang! Bang! stands out, not because it is poking fun at the form, but because it has decided to simply do something different and embrace the weird."
"Scott Aukerman is an absolute force to be reckoned with in the world of comedy," Complex said. "It's like if Pee-wee's Playhouse had a one-night stand with Saturday Night Live — but then when the demon seed of that tryst was born it ate a ton of acid at Burning Man."
Want the latest news on Maron? Like the show on Facebook and follow us on Twitter@MaronIFC For the latest on Comedy Bang! Bang!, like them on Facebook and follow them on Twitter@comedybangbang and use the hashtag #cbbtv.
Maron airs on IFC on Thursdays at 10p followed by Comedy Bang! Bang! at 10:30 p