9 Things You Never Knew About The Shawshank Redemption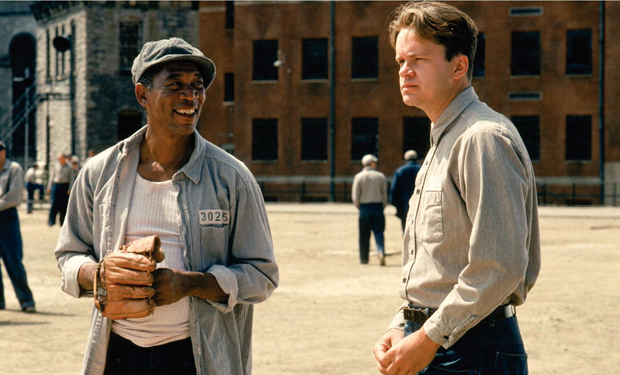 Posted by K Thor Jensen on
Frank Darabont's 1994 drama, based on a Stephen King novel, is one of the most critically acclaimed prison movies of all time. But there was a lot of interesting stuff happening behind the scenes – here's our guide to some of the most intriguing trivia.
9. Morgan Freeman's Son Posed for His Mugshot
For the picture of young "Red" Redding on his mugshot, actor Morgan Freeman's son Alfonso was tapped to portray him decades ago. Alfonso also has a brief part in the film taunting the new arrivals as they get out of the bus.


(Source)
---
8. The Maggot Was Dead
During the scenes with Brooks's crow, the American Humane Association was on-set to ensure no cruelty to animals took place. The bit where he feeds it a maggot had to be re-shot to use a grub that "died from natural causes."

(Source)
---
7. A Real Prison Warden Has a Cameo
In the middle of the film when the bus is bringing Tommy Williams to Shawshank, the man sitting behind him on the bus is Dennis Baker, who had been the real-life warden of the Ohio State Reformatory (where Shawshank was filmed).

(Source)
---
6. The Sewer Sludge Was Chocolate
When Andy is making his escape, he crawls through a sewer tunnel filled with grotesque effluvia. The sludge was actually a mixture of chocolate syrup, sawdust and water, and even decades later the pipes still smell like cocoa.

(Source)
---
5. Andy's Convertible in Mexico Is 5 Years Too Early
In the film's closing scenes in Zihuatanejo, Andy is driving a red 1969 Pontiac GTO – even though the scene was set in 1965! The filmmakers were originally set to use a '65 Mustang, but the owner changed his mind at the last minute.


(Source)