This Week: Marc Goes to Therapy and Jenna Fischer Stops by CBB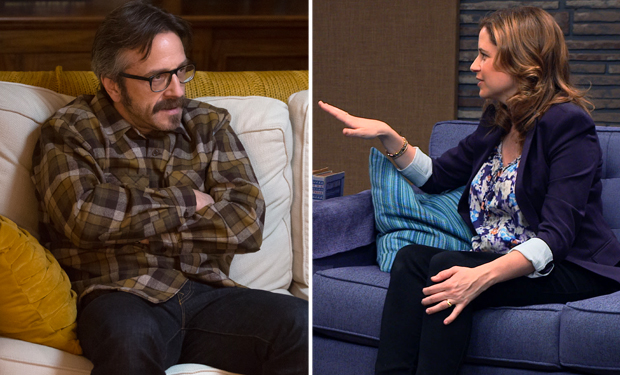 Posted by Melissa Locker on
On this week's Maron, Marc and Jen enter couples therapy with married therapists. But instead of helping, therapy exacerbates their issues. After Marc feels wronged by the therapists, he ends up putting a dent in their "perfect" relationship. Tune in at 10p on Thursday to get some tips to use in your own therapy.
Over on Comedy Bang! Bang!, murder is afoot and The Office's Jenna Fischer is on the suspect list. Scott Aukerman calls in an inspector to narrow down the suspects while Jenna shares a clip from her appearances on the British version of Comedy Bang! Bang! to help prove her innocence. Plus, Reggie shows off a commercial for his new favorite vehicle. Tune in for guest stars Taran Killam, Paul Brittain, French Stewart and Jason Alexander.
Want the latest news on Maron? Like the show on Facebook and follow us on Twitter@MaronIFC For the latest on Comedy Bang! Bang!, like them on Facebook and follow them on Twitter@comedybangbang and use the hashtag #cbbtv.
Maron airs on IFC on Thursdays at 10p followed by Comedy Bang! Bang! at 10:30p.