15 Super Weird Kickstarter Campaigns (That Somehow Got Funded)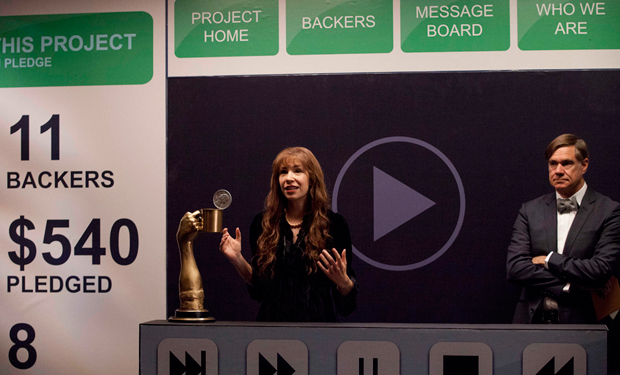 Posted by K Thor Jensen on
Watch Kickstarter videos compete at a film festival on the latest Portlandia, airing again on Sat, April 12 at 12:30pm ET and Sun, April 13 at 11pm ET.
The founder of Kickstarter is kind of excited about Portlandia and for good reason, too:
Apparently there's a skit about Kickstarter on @Portlandia tonight. We're excited

— Yancey Strickler (@ystrickler) April 11, 2014
Crowdfunding has changed the way we make movies, develop tech and just about every other facet of business. But for every can't-miss like the Veronica Mars movie, there's a dozen totally bizarre niche products that also raised the money. In this feature, we'll run down 15 of the weirdest.
15. Crystal Bacon
Internet people love bacon more than just about anything else, but pledging $2,786 to get a strip of bacon-shaped transparent plastic is just too ridiculous. (Source)

---
14. My Little Po-Mo
Anything My Little Pony related is guaranteed to make big bucks on Kickstarter, but a collection of academic essays? Sure, it got $1,046. (Source)

---
13. Combat Kitchenware
A frying pan attached to a sword hilt seems like a pretty niche product, but the dude who invented Combat Kitchenware took home $46,261 to make them. (Source)

---
12. Missy For Prez
Brooklynite Sakura Bready raised $2,492 to create one-of-a-kind tracksuits based on a dream she had about Missy Elliott as President of the United States. (Source)

---
11. World's Largest Jockstrap
Artist Michael Barrett raised $854 to manufacture his Guinness World Record-holding black athletic supporter at ten times the scale of an ordinary one. (Source)